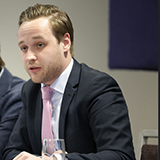 Medical students rotate through clinical placements in their final three years of study. The timetables at medical schools are tailored to ensure that medical students experience different hospital environments, from large tertiary and regional referral centres to district general hospitals. In addition to different hospital environments, medical students rotate around different medical, surgical, and specialty teams.
During each rotation students will be assigned a consultant or senior doctor and will spend time shadowing the junior doctors. They will be encouraged to clerk patients, and to examine and carry out simple clinical skills, under supervision.
Medical students' perspectives are unique. They rotate around parts of a hospital where there may be low doctor turnover and so they could be the freshest pair of eyes present. Their observations may therefore challenge established ways of working in the sense that they, perhaps, become aware of deficient practices that others simply hadn't noticed.
Medical students are regarded as the most junior members of the team—if they are considered as part of the team at all. This is because they are not responsible for the provision of care (even if their actions have an impact on patients) and because they have not yet gained a primary medical qualification. So, although medical students could be the most able to identify poor practice or areas for improvement (through direct comparison with more recent clinical experience elsewhere), they lack the authoritative ability to highlight this to the appropriate people.
Medical students are much less able than any other member of the team to be independent change makers themselves. This is largely because they lack "process and procedures" knowledge.
The issues

Junior doctors are ambitious and hard-working. Medical students, like myself, often see them as role models. In today's NHS, junior doctors find themselves stretched to cover rotas and often work well past the end of their shift in an attempt to provide the safest care for their patients. However, they are reluctant to raise overworking as an issue.
What seems to stop them is a "learned helplessness." With the NHS dominating headlines, this thought process of helplessness is seeping into medical schools and affecting medical students, prompting them to consider their place in the NHS. In medical school, I have observed the hidden curriculum, which could be acting as a barrier to innovation and the improvement of care.
Sometimes we observe that our more senior colleagues find it difficult to communicate with healthcare professionals outside the hospital. In primary care, we observe the same frustrations when general practitioners struggle to engage their hospital colleagues.
We listen to some of the language used to describe members of different medical and surgical specialties. We begin to form our own opinions—opinions which, in the future, risk perpetuating a culture that hinders teamwork and the seamless delivery of high-quality care.
As a student, I experience different ward environments every couple of weeks during regular rotations at medical school. In doing this, I compare how different wards address and solve safety and quality concerns. The differences between wards are as stark as the differences between hospitals and between trusts.
Medical students could contribute to the process of improving care. My view, for example, is that understanding how national policies are framed by local trust leadership and what impact that has on frontline care would be a first step in the right direction.
The solutions
Thoughtful attention to these issues, away from the spotlight, may help us understand how we listen to each other and enable us to use frontline experiences to find solutions. Often, solutions that can be embedded into hospital practice are inexpensive, relatively simple, and innovative.
The first is to consider how we work alongside those who want to modernise medical teaching and education. A greater emphasis could be placed on generalist skills. Medical students will need to be prepared to treat more complex, increasingly frail patients in a time-pressured setting. Making them aware of the "barriers" and "difficulties" that arise from providing this kind of care will allow students to develop their critical thinking and change their approach in future practice to overcome problems. They will become resilient practitioners.
I have observed how different members of the team will care, cure, and prevent disease and disability in different ways. Some of the most valuable learning I have acquired has been from physiotherapists, nurses, midwives, speech and language, and occupational therapists. In mental health services, social workers have been an invaluable source of experience and knowledge. A first exposure to the multidisciplinary team could come at medical school. Making this common practice would establish multidisciplinary working for the most junior members of the team once they have qualified.
Currently, the first experience of quality improvement for doctors is some years after qualification. While this is in no way tokenistic, their participation is often limited. Medical schools could consider running "innovate local quality improvement" project competitions. I have seen first-hand medical students designing simple solutions to some of the problems that patients and families face in hospitals. Simple ideas like these could empower medical students to want to continue this work in the future.
Harrison Carter has co-chaired the British Medical Association's UK medical student committee since 2013. He is a Newton Masters Scholar at Downing College, Cambridge, completing a Masters in public health between the penultimate and final years of his medical degree at Bristol. He was a Lister Student at Oxford University.
Competing interests: None declared.
A version of this article was published in The King's Fund's report: "Organising care at the NHS front line."