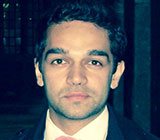 Hashtag: #iminworkjeremy
Description: When Jeremy Hunt (Secretary of State for health) accused the NHS of having a "Monday to Friday culture," healthcare workers from across the country posted selfies of themselves busy at work on their weekend shifts.
Example: @trentconsultant #ImInWorkJeremy been round with registrar. Every patient seen. All poorly ones or who need decision seen by consultant. New contract needed? (18/07/15).
Hashtag: #dangermoney
Description: Jeremy Hunt claimed that "danger money" was a widely used colloquialism in the NHS for payment in exchange for working extra hours. Doctors, who had never heard of or used the term, were quick to mock it.
Example: @andrewdmct Just spent £2.90 of my #dangermoney on the bus to get to work in order to work a "sociable hours" 12hr Friday night shift. #juniorcontract (30/10/15).
Hashtag: #militantdoctor
Description: A Daily Mail article warning the UK public about "militant" doctors who had political motivations and ambitions left junior doctors bemused.
Example: @willhquick Only a #militantdoctor wouldnt want to work more for less pay and be concerned about patient safety right @Jeremy_Hunt #NHS #juniordoctors (13/11/15).
Hashtag: #moetmedics
Description: An article in The Sun sought to expose the "champagne-swilling, lavish lifestyles" enjoyed by junior doctors, who duly took to Twitter to share their apparently luxurious customs.
Example: @kunbab Came home post nights and remembered I have my emergency bottle of Moët in the fridge. Phew! #moetmedics (11/01/16).
Hashtag: #rashdecision
Description: When Jeremy Hunt responded to the tragic death of a baby with a suggestion that parents should look online to determine the severity of their child's rash, doctors highlighted the absurdly risky nature of this advice.
Example: @HelenS_NHA Is someone deliberately giving @Jeremy_Hunt really bad medical advice or does he do it all by himself? #rashdecision (31/01/16).
Hashtag: #likealadydoc
Description: In the midst of the debate about a contract that was widely thought to discriminate against female doctors, a Sunday Times journalist claimed they were, in fact, the cause of NHS workforce problems. Doctors soon put him right.
Example: @DrNads77 I don't really want to burn my bra's, some of them are very pretty, but this #juniorcontract may drive me to it #likealadydoc #suffragette (01/04/16).
Hashtag: #timetotalkjeremy
Description: With Jeremy Hunt unwilling to re-open negotiations, junior doctors protested daily outside of the Department of Health offices with an empty chair waiting for him in case he wanted to start talking again.
Example: @SannaWaseem Day 19: A chilly Sunday outside the DoH. Turns out the SoS doesn't work weekends… #timetotalkjeremy #juniordoctors (01/05/16).
Hashtag: #istandwithjohann
Description: After claims they had been misled by the BMA Junior Doctors' Committee, junior doctors showed their support for the erstwhile chair, Dr Johann Malawana
Example: @susiebayley So sad people are prepared to destroy the phenomenal unity amongst Drs at the moment for their own political gains #IStandWithJohann (26/5/16).
Hashtag: #notfairnotsafe
Description: With the discourse in the media focusing increasingly on money, junior doctors sought to highlight the real dangers of the contract and the impact it would have on patient safety and the future sustainability of the NHS.
Example: @DanielJCurwen @Jeremy_Hunt I'll work my 36th hour of this weekend as of 12 tonight. How's your bank holiday? #notfairnotsafe #rankholiday (30/05/16).
Hashtag: #mindtherotagap
Description: In order to quantify the significant workforce shortages being faced by departments across the country, this movement collected rota-related data and experiences from junior doctors on the front line.
Example: @basher275 Reg on call for T&O today, no junior doctor cover for day or night all week. #mindtherotagap #notsafe #juniordoctors (12/09/16).
Ahmed Rashid is a teaching fellow at UCL medical school and columnist for the BJGP. You can follow him on Twitter @dr_a_rashid.
Competing interests: None declared.