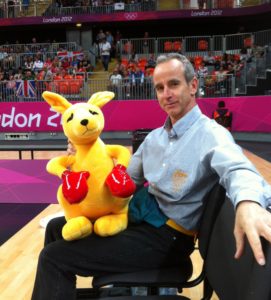 I remember clearly the night of the London 2012 Olympics opening ceremony. I was team doctor for the Australian women's basketball team, the Opals. The Australian Olympic Team (AOT) usually sends one or two doctors to the opening and closing ceremonies, with a few basic medical supplies, to take care of any medical issues that may arise among the marching team members. I was delighted to be asked to perform this role at the London opening ceremony.
London was special. The village was immaculate and from it the stadium was visible and audible—hours before the ceremony began, we could hear the noise of the crowd and the entertainment booming out of the stadium. The night was warm and there was palpable excitement in the village. As we walked to the stadium, the daylight faded and the stadium emitted an ever more flamboyant light show, supported by the increasing noise of the party within. Australian athletes mingled with athletes from other nations as we walked and there was a wonderful mood of bonhomie.
As we approached the stadium we were organised into more formal nation groupings. I recall that the Australian team paused in the tunnel entrance to the stadium, waiting for the starting instructions from London officials. Opals legend Lauren Jackson was the Australian flag bearer, which made the occasion just that little bit more special for the Opals athletes and officials.
At the signal, Lauren lifted the Australian flag high, gave it a confident twirl, and marched into the stadium. It was surreal. A deafening roar of noise greeted the announcement of "Australia." A sea of flashing bulbs and coordinated lighting filled the stands. The central space within the running track was a brightly coloured theatre set. It was a great thrill for everyone in the Australian team who marched that night. Most Australians have watched these spectacular ceremonies on television, but a privileged few have the opportunity to participate.
The opening ceremony was exhausting. By the time we got back to the village, it was 11:30 PM and we had been on our feet for over six hours. For this reason, coaches and athletes have to think carefully when deciding whether or not to participate in the opening ceremony. Those athletes who are competing on the first or second day will often decline. An athlete does not want to go into the world's biggest competition sleep deprived or leg-weary. Clinically, the opening ceremony wasn't too challenging with a few blisters and headaches being the only cases requiring my attention.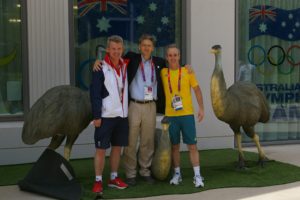 London was a doctor's dream Olympics. It was clean, modern, and extremely well planned. The polyclinic was an amazing medical resource with a fully stocked pharmacy, state of the art medical imaging, and a mini hospital where athletes could receive IV fluids for gastroenteritis and be cared for if they had more serious ailments. There were relatively few environmental health risks.
As I write, I am winging my way across the Andes between Santiago and Rio for the 2016 Olympics. It is a very different feeling from when I flew into London. I have a much larger role with more responsibility this time, being the medical director for the whole Australian contingent of 850 team members (athletes and officials). To say that Rio 2016 poses more medical challenges than London 2012 is an understatement.
I feel a great deal of sympathy for the Brazilian people. At the time the Olympics were awarded to Rio, Brazil was an economic powerhouse with double digit growth and the potential to become one of the world's leading industrial nations. Today Brazil faces huge challenges with political corruption, financial turmoil, and a spiralling law and order crisis. The economy is on its knees, with stories that police and fire brigade staff are not being paid. Many of the promised Olympic projects have been shelved through lack of funds.
In Rio itself there are issues with water quality. Until very recently, 70% of Rio's sewerage flowed untreated into Guanabara Bay, where the sailing events will be held. The waters of the Lagoa (canoe and rowing) and Copacabana beach (triathlon, open water swimming) are also well below the standard of cleanliness that we would expect in England or Australia. Many of the sporting test events held in Rio over the past two years have been marred by outbreaks of gastroenteritis. While there has been a big effort to improve the water quality, the truth is that waterborne infections are likely to be an issue for all nations at Rio 2016.
The hits just seem to keep coming thick and fast for Brazil. I have had mosquito borne infections (dengue fever, chikungunya virus, and yellow fever) high on my list of medical concerns since 2013. In late December 2015 we started to hear rumours of an outbreak of Zika virus, a mosquito borne disease not previously identified in Brazil. There were also suggestions of an association between Zika and congenital neurological abnormalities in children and Guillaine-Barré syndrome in adults. By the end of January we knew that the problem of Zika was real and it was big.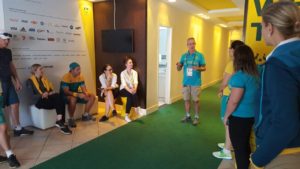 For the past seven months I have been attending regular, high level health meetings on Zika involving the Australian government Department of Health and other relevant government bodies. The health information on Zika has changed weekly. It has caused a great deal of anxiety among those planning for Rio, particularly in relation to reproductive health.
I issued the first Australian Olympic Committee (AOC) advisory note on Zika on 29 January. I have updated the advice almost every fortnight since. The Australian team is well informed and well prepared, but there is no denying the concern for those who are planning a family soon after Rio.
Perhaps the most immediate health concern in Rio, however, is personal safety. Violent crime is increasing in Rio despite a law enforcement crackdown. Several Olympic related sporting groups visiting Rio have been affected by muggings and assaults in the past 12 months. There is likely to be opportunistic crime during the Olympics. Criminals in Rio are usually armed, and violence tends to be random and brazen. As medical director, I find myself decreasingly thinking about injuries and illness in the lead-up to competition, and increasingly thinking about threats of harm to team members after competition, when athletes and officials are relaxing out and about in Rio.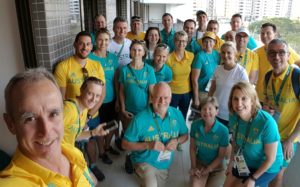 In case this all sounds like doom and gloom, I should emphasise that I am looking forward to Rio 2016. The opportunity to work with a talented medical team in a challenging environment is a professional experience I am relishing. There has been a huge amount of logistical planning for Rio since 2013 and I will enjoy implementing all of our medical systems and protocols.
Most of all, I will enjoy being part of an amazing event where sport brings together athletes from all the world's nations to compete in a celebration of camaraderie and "oneness." For all its detractors, the Olympics remain one of the few global events that allow all nations to forget their differences and unite for a fortnight in harmony.
On a final note, I want to point out that the medical challenges for Australian (and other first world nation) athletes in Rio need to be kept in perspective. When viewed through the lens of the Brazilian people, our Olympic health challenges are transient and trivial. We fly in, support the athletes with a highly skilled medical team, compete, and fly out again to our safe, highly sanitised Australian environment. The Brazilian people have no such luxury. The crime, the dirty water, and the mosquito borne diseases will remain well after the Olympic Games are over. In planning for the health threats facing the Australian Olympic Team, I deliberately maintain a respectful cognisance of the plight of the Brazilian people. The health challenges facing Brazil are vast. Addressing those challenges will require political and economic stability, which, at the moment, seems a marathon away.
David Hughes is a specialist sport and exercise physician practising in Canberra, Australia. Dr Hughes is a former president of the Australasian College of Sports and Exercise Physicians. He is currently chief medical officer at the Australian Institute of Sport and medical director of the Australian Olympic Team for Rio 2016.
Competing interests: I have read and understood BMJ policy on declaration of interests and declare the following interests: None