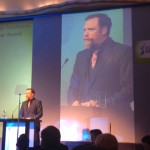 Spare a thought for the comedian asked to host a professional awards ceremony within a week of the UK general election.
Oliver Reed lookalike Rufus Hound (pictured) showed all the signs of having his comic wings clipped as he took to the podium at London's Savoy Hotel last week to present the Nursing Standard Nurse Awards.
This was not a night of hellraising. Instead Hound ploughed a politics-free furrow in a compering gig that was interspersed with references to the vital work carried out by nurses, midwives, and health visitors.  At times, in fact, he almost sounded like a politician.
There was, however, some gentle ribbing. Student nurse winner Mark Collins was affectionately mocked for taking a wrong turn when he went back to his seat. And nursing professor Neil Brimblecombe was hailed for having the best surname in  the packed hall.
Why was I there? Three reasons:
A spare ticket came my way, and I admire Nursing Standard's chutzpah in selecting a "grand prix" Nurse of The Year from its finalists (more on that later)
It's been years since I attended a nursing awards ceremony, and I was keen to find out more about the winning entries.
The BMJ Awards are tomorrow night. My DJ needed an airing, and I'm not sure I'll be lucky enough to blag a ticket to our event in these austerity-driven times.
One thing I really like about The BMJ Awards is its multidisciplinary nature. Most years I've ended up on a table with consultants, nurses, and patient representatives, and the Nursing Standard event was similar. For instance, clinical nurse specialist Dorcas Gwata took a social work colleague onto the stage with her when she won the Mental Health Award for her work with young people and families affected by gang crime.
I was lucky enough to be on the table of a winner – Tanya Strange. Tanya, who took the Enhancing the Experience of Care Award,  uses retired nurses and other healthcare professionals to find out how care home residents' lives can be improved.
Unlike The BMJ Awards which shortlists many finalists, most of Nursing Standard's 15 categories had just two finalists, so my heart went out to Maddie Groves, whose Medically Fit for Discharge ward team was pipped to the post by Tanya.
But what of the winner's winner? The 2015 Nurse of The Year award went to Stoke nurse Amanda Burston in recognition of the domestic violence service she launched, which so far has helped more than 400 abuse victims.
You won't read about Tanya and Amanda in the print pages of The BMJ, of course, because the journal doesn't tend to cover nursing.  There is more than enough UK and international medical news, views, education and research to keep us busy.  And nurses, midwives and health visitors are ably served by two weekly magazines, and its more specialist practitioners have a range of journals to choose from, including BMJ's own Evidence Based Nursing.
Are our readers interested in nursing? Yes, if you consider the online success of Chris Mahony's interview with Royal College of Nursing general secretary Peter Carter in the wake of the Mid Staffordshire scandal, and Tony Delamothe's column We need to talk about nursing. But perhaps not enough to read a more detailed account of the Nursing Standard awards. Here's a link to the Nursing Standard's excellent coverage if you want to find out more.
David Payne is digital editor, The BMJ, and readers' editor.