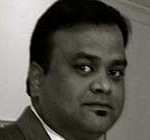 Political parties often pitch intensively against a few individuals for maximum media bites. There is, however, no real discussion of the issues which affect the lives of scores of Indians. "Development" has recently become the buzzword of political parties. If development means economic and social transformation, then health should be seen as an essential component. Our country's future will be determined by the investment we make in health and education for our "human resources."
The most we hear from politicians about health is on the subject of reducing infant and maternal deaths. Obviously these are issues that matter, but it is a shame that most political parties have realized this only now. Over the last seven decades they have been largely silent on the issue of India's poor infant and maternal mortality indicators (IMR and MMR). With more voter friendly issues to be discussed—such as roads, trains, and buildings—will more fundamental societal issues such as health appear at the forefront of political discourse? Probably not.
Although our governments routinely announce grand health schemes, India does not (with a few exceptions) use credible evidence to guide health expenditure.
Evidence based public health policy—which should determine planning and spending—is virtually non-existent. For example, labelled as the saviour of people below the poverty line (BPL), the Rajiv Aarogyasri scheme (RAS) currently covers the healthcare costs of nearly 86% of the total population in the state of Andhra Pradesh. It is one of the biggest health schemes in the country. The state government is the sole funder for this insurance scheme and pays the entire premium on behalf of the BPL families. Replicas of RAS have been set up in several other states, effectively draining money from the health sector towards profit making private sector hospitals. Addressing the curative services is fine, but will the policymakers make a conscious attempt to work towards strengthening the public health system? Probably not.
The generation of evidence for policy needs to be led by state funded and autonomous research funding organizations—such as the National Institutes of Health (NIH) in the United States. A policy of bestowing grants upon competitive independent research organizations or public health researchers should be implemented—including building their capacities. Many countries in the world have institutions that collect information on the burden of diseases. These institutions have statutory and economic powers to enable them to plan and implement integrated surveillance for diseases, and to guide policy to determine priorities. For India this would be a crucial step—not only from a health perspective, but to prepare the country against the threat of biological weapons.
The National Institute of Communicable Diseases (NICD) has been renamed as the National Centre for Disease Control (NCDC). Readers are advised to compare the Centers for Disease Control and Prevention (CDC) in the US or China with our NCDC. Barring India's polio programme, which has a world class surveillance network (NPSP), we have displayed ambitious intent but futile implementation of disease surveillance and response. We do not currently have standard operating guidelines regarding reporting diseases, and health hazards, which should be implemented throughout the country. Will the next health minister lead not only with the right intent but coordinate with state governments to implement evidence based public health in India? Probably not.
Without being swayed by advocacy campaigns of those with vested interests, the state must focus on public health planning and implementation. To this end, government health departments need to be autonomous with minimal political interference. Currently, the majority of health expenditure is from people's own pockets (called out of pocket expenditure—OOP). A total of 28 per cent of people in rural areas and 20 per cent in urban areas, however, have no money for their healthcare. Middle class families are not invulnerable to major illness or the likely subsequent impoverishment. Insufficient funds and a lack of accountability in the public health sector has led to the flourishing of the private sector—triggering catastrophic health expenditure. More than 40 per cent of families with one member hospitalized would borrow money by mortgaging their property, which they would never be able to get back. As per the planning commission's High Level Expert Group (HLEG) report, a total of 35% of families would fall below the poverty line if a member gets hospitalized. Will any political party pledge to implement universal health coverage ahead of elections? Probably no party would do this given that it is not a burning issue for them, even if it will "burn" nearly half of all Indian families in the near future.
It is astonishing that no one talks about the importance of public health training and research; two important areas that require immediate attention. Unlike the Indian Institute of Technology (IIT) or the Indian Institute of Management (IIM), which cater mostly to the private sector, the autonomous public health institutes need to focus on the obligations of the local public health system.  These should include keeping the public informed about important general health matters, as well as conducting research in an area specific manner within each state, and reporting findings to the government so that changes can be implemented. It is critical that a well trained and professionally skilled workforce manages the public health system. A new "Indian Health Service" with power and financial autonomy equivalent to that of the Indian Administrative Service needs to be created. A detailed draft of such a service should be prepared and discussed in detail by public health experts. Professionals should be trained in addressing public health issues, and in educating the public on general health. Have the manifestos of any aspiring leader reflected any of the important measures contained here? Probably not.
On the other hand, private healthcare establishments are rarely accountable for any of the services they provide. Advertising leads us to believe the private sector is providing a high quality service at an affordable price. Private health establishments also make use of the media to criticize every step the government takes to provide affordable healthcare to everyone. It is important to recognise that the private health system in India is similar to any other profit making industry. In this case, poor quality comes at high cost, borne either by the patient or the government. The private sector in healthcare is unregulated, including the reported splitting of fees. Health related services should have uniform prices throughout the country. Governments at central and state level need to publish prices for health services, and these must be followed by the private health industry. There is nothing wrong with charging for five star facilities if the patient prefers and can afford it. It would be wrong to charge high prices for everyone. We need regulations to ensure that the average person is able to afford healthcare. In turn the average person must give priority to health as an election issue.
One in three people in India live below the poverty line. The remaining two people usually assume that they will stay above the poverty line forever. Here comes the surprise. In a paper published in Economic and Political Weekly, Peter Berman and colleagues analysed NSSO data and showed that 63.22m individuals or 11.88m households were pushed below the poverty line because of healthcare expenditure in 2004. This will increase steeply in the years ahead, and the Srinath Reddy led HLEG report on universal health coverage has warned, "If you are not poor already, illness can make you poor." The only exception to this sudden impoverishment is for millionaires or politicians whose healthcare expenses are taken care of by others. Will these facts cause the middle class to demand more healthcare expenditure? More importantly, will the middle class consider this as an issue before they decide which party to vote for? Probably not.
The current public health challenges are intense and complex, and cannot be addressed by the government's department of health alone. We cannot allow children to suffer from measles, adults to get cardiovascular diseases, or elders to succumb to cancer. All these conditions are common in our country and there is much work to be done; yet we claim to be one of the fastest growing and developed nations. It is time that we focussed on fixing our health system, and take steps that will improve public health. Most illness is preventable and early screening can minimize costs. WHO defines health as "a state of complete physical, mental, and social wellbeing and not merely the absence of disease or infirmity." Yet most health debates occur around sickness and diseases.
The mainstream media airs debates on most trivial issues but do not have time to raise interest in health issues. With the common man not knowing the serious consequences, faced with the eternal neglect of politicians, and sidelined by private health interests and aiding policy makers, one often wonders who cares for the health of people anyway?
What can the next Government do? Which party can ensure this?
1. Implement universal health coverage, as proposed by HLEG of Planning Commission of India.
2. Establish Centers for Disease Classification away from Delhi. (Similar to CDC, Atlanta). For security reasons it is essential to have a site separate from national headquarters. Integrate all disease surveillance programmes and strengthen IDSP. Link this to the CDC.
3. Strengthen comprehensive primary healthcare throughout the country. Ensure that the control on providing healthcare services is decentralized and only the state/central headquarters controls the quality matters. The NHS in the UK is a good model to follow.
4. Include mental health as one of the integral components of primary healthcare.
5. Improve mental health services throughout the country.
6. Implement a school health programme ensuring every child is healthy.
7. Increase the flexi pool of health budget to every state.
8. Similar to IIM and IITs, start one Indian Institute of Public Health (IIPH) of global repute in every state of the country. Have four regional public health universities situated in Delhi, Bangalore, Bhubaneswar, and Gandhinagar. Link the public health cadres in every state to the IIPHs.
9. Establish a research fund to encourage public health research by any public health researcher in the country. This should be along the lines of the NIH in the US.
10. Workplace based health programmes to get funding from the centre and state.
11. Cancer care to improve. Every district hospital should have dedicated NCD centre with specialist services available for cancer patients.
12. Start a new programme to take care of the elderly.
13. Develop an integrated national health policy. This should cover preventive, curative, and rehabilitative services.
14. Develop a national urban health mission to cover all urban areas.
15. Social determinants of health should get priority in planning and budget allocation.
Acknowledgements: I sincerely thank Prashanth Nuggehalli Srinivas for his insightful review and comments in improving this blog post.
Giridhar R Babu is associate professor at the Public Health Foundation of India.