Last week's print BMJ included a 14 page supplement about BMJ Awards, held a week earlier in London. If you didn't see it, here's a link. The BMJ Awards website lists all the winners, along with pictures from the night.
The BMJ Awards are now five years old. The event goes from strength to strength. Next year we are launching BMJ Awards India in Mumbai.
I've attended all of the UK events and inevitably compare the BMJ event with the dozens of others I've been to over the last 20 years for healthcare professionals, digital developments, and journalism.
This year I sat with a great bunch of people from the Itchy Sneezy Wheezy team. Part of Imperial College Healthcare NHS Trust, they were nominated for Child Health Team of the Year, but sadly didn't win.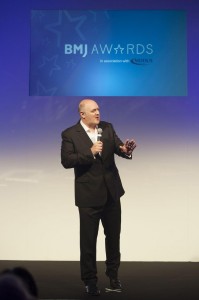 Itchy Sneezy Wheezy were genuinely pleased for the winning team (Cardiff Child Protection Systematic Review Group), clapping enthusiastically when comedian Dara O'Briain (pictured left), our awards host this year, gave them their trophy. Such magnanimity is not unusual at the BMJ Awards, unlike many others I've attended, where unsuccessful teams switch off and talk loudly after their category has been announced. Healthcare professionals seem to be genuinely pleased when colleagues get recognition for their work. Itchy Sneezy Wheezy thought it was great that the vital work done by child protection teams was being acknowledged.
A colleague described this year's ceremony as a "coming of age." I've enjoyed every event so far, but this year's felt slicker somehow, and despite there being more categories, finished half an hour earlier than in 2012, allowing extra time for guests to circulate get to know each other.
Each year the format gets reviewed. This year we introduced a winnner's winner category. At one staged we discussed whether this grand prix awards should be called "doctor of the year," but it didn't feel true to the spirit of the awards, which is to celebrate team achievements (my Itchy Sneezy Wheezy friends included doctors, nurses, a project manager, and a former history teacher). This year's BMJ Medical Team of the Year award went to the British Nepal Otology Service (BRINOS, pictured below), winners of the Karen Woo Surgical Team of the Year earlier in the evening. You can find out more about BRINOS in this BMJ podcast.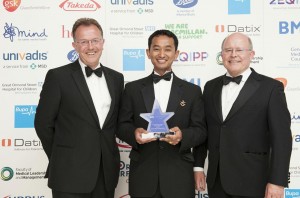 I "championed" two awards categories this year. I attended the judging day and saw first hand how entries are scrutinised and evaluated. There were some lively debates as we broke into groups before returning to feed back on our decisions to the full panel.
I fulfilled a similar role when I worked at Nursing Times in the late 1990s. This involved accompanying two judges on site visits to interview shortlisted teams, who took time out from their busy working day to tell us about their projects.
Asking busy teams to allocate time and resource to accommodate a site visit feels like a big ask these days. Instead we allow for some follow-up queries if judges need to check things. An indication of how busy our entrants are is the fact that many I spoke to on the night had jumped on trains after finishing clinics (some of them arriving just as ceremony was about to start), and were booked on very late trains home to run clinics the following morning.
I mentioned Dara earlier. He was a superb compère and deserves credit for maintaining the pace of the evening without making it feel rushed.
We've been lucky with our hosts and celebrity guests over the years.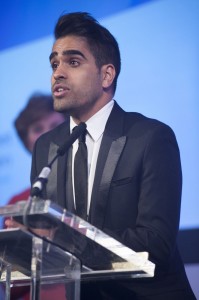 They include Hugh Grant, who paid a moving and funny tribute to the late Ann McPherson in 2011 after she won Health Communicator of the Year.  Last year Tony Blair's former communications director Alastair Campbell spoke on behalf of mental health charity MIND, describing his own mental illness at the same time. This year paediatrician Ranj Singh (pictured) who presents Get Well Soon for CBeebies, joined us as a judge for the child health team of the year.
Dara gently ribbed Northwick Park Hospital fast-facing stroke team, winners of the clinical leadership team of the year, for taking longer than others to organise themselves for the photographer.
My two most memorable quips came from Sandi Toksvig, who hosted our first event five years ago. After being introduced by BMJ editor-in-chief Fiona Godlee, she guessed that Fi and Stella Dutton, our chief exective at the time, had both been stalwarts of the school netball team, before alluding to a BMJ research paper about tea drinking habits and oesophageal cancer in northern Iran: "That's the last time I drink tea in Iran!"
David Payne is readers' editor and editor, bmj.com