By Jessica Beard
Topics surrounding concussion are as hot as a Californian summer. The public has witnessed players in professional sport clearly concussed, yet not removed from the field, the 2015 Will Smith Movie shows the traumatising reality of sports related concussion (SRC), famous players have reached out to share their concussion symptoms post sport. Now, there is a common want to change this 'harden-up' culture in sports, and we have seen protocols develop and be implemented to reduce SRC cases, as well as increase awareness. However, I believe these protocols could set up the inexperienced sports physiotherapist to fail, especially within premier club rugby. Based on players' attitudes in club rugby that I have experienced, we may be in trouble.
The Blue Card initiative downfalls in club rugby
The Blue Card initiative, currently rolling out in New Zealand, gives rugby referees the responsibility to remove a player deemed concussed from the field. When a player is removed from the field after a suspected concussion, the player has an automatic three-week stand down from rugby, must be assessed by a sports doctor, and follow a structured return to play programme. Within premier club rugby, this is often an untrained volunteer who has competing responsibilities, and now, after watching the news and being given a checklist, is required to make an important decision regarding concussion. Aside from the additional pressure this puts on the referee, it sounds like a good protocol. However, in my experience it is unfortunately making our job as a physiotherapist much harder, and in the case of those less experienced, there is a likelihood that we may see a failure to recognise SRC.
The Blue Card initiative has highlighted to players that SRC will result in an instant removal from the field and dreaded 3-week stand-down from sport. Consequently, players are no longer trusting their team physio, and are more inclined to hide or under-report symptoms.
According to the 2016 consensus statement on SRC:
In all suspected cases of concussion, the individual should be removed from the playing field and assessed by a physician or licensed healthcare provider (1)
The majority of SRCs occur without loss of consciousness or frank neurological signs (1)
SRC is often an evolving injury, therefore signs and symptoms may be delayed (1)
The statement above clearly outlines the foundation for the Blue Card protocol, where physiotherapists are being taught, if in doubt, to remove the player as symptoms are commonly delayed. This system is working well at the professional level, as players that have a suspected SRC can temporarily be removed following video replay of a head knock. Post removal these players undergo a 15-minute sideline check by a trained medical doctor. This involves a SCAT-5 assessment which is compared to the player's baseline and, if cleared, they may return back to the field of play. Unfortunately, in club rugby, where physiotherapists are often the primary health care professional on duty, we don't get the opportunity for a 15-minute sideline check to validate our decision or video replay, for that matter. Player removal is final for the match or training session. Consequently, removing a player with a SUSPECTED concussion is not easy in club rugby, especially if the physiotherapist has not dealt with a player with concussion before.
A consequence of the above guidelines on inexperience physiotherapists may have resulted in multiple unnecessary removals which, I believe, is causing a shift back towards hiding concussions.   A 2015 study on Irish school boy rugby players' attitude toward concussion highlighted this issue, with 72.5% of players reporting they would play an important match with concussion (2). They said sentiments like "it is a chance to prove yourself" and "they could not let their team down" by not playing (2). I suggest most players, especially those trying to make higher levels, now know the protocol and that symptoms equal removal from the field. Could this 'black and white' outcome make them reluctant to report symptoms?
The Blue Card initiative has increased community awareness and is reducing issues within the professional sports world, however, I think we are losing the battle at premier club rugby.
A potential solution for club rugby
The 15-minute concussion sideline check could make it easier to get players off the field, knowing they have the opportunity to return to play, if cleared. It will give our less-experienced sports physiotherapists a chance to make an informed sideline decision, without the coach or player putting them under undue pressure. Concussion is a never-ending medical issue, and making protocols that suit all areas of rugby can be another step towards making rugby a safe sport for all.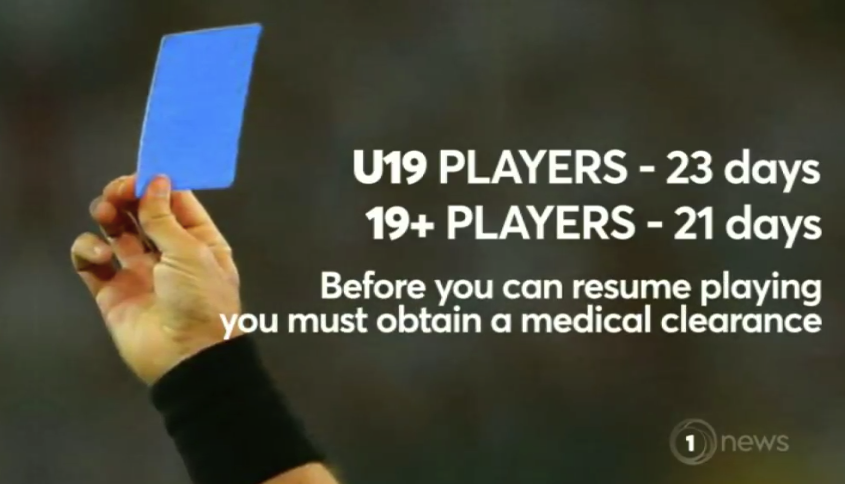 Jessica Beard is a sports physiotherapist at PRG Pulman clinic, Auckland, and currently undertaking a Post-graduate Diploma in Sports Physiotherapy at the School of Physiotherapy, University of Otago, New Zealand.
BJSM Education Review: University of Otago: towards specialisation with a Masters in Physiotherapy, endorsed in Sports Physiotherapy (continuing professional development series)
References
McCrory P, Meeuwisse W, Dvořák J, Aubry M, Bailes J, Broglio S, et al. (2017). Consensus statement on concussion in sport—the 5<sup>th</sup> international conference on concussion in sport held in Berlin, October 2016. British Journal of Sports Medicine, 51(11), 838-847. doi: 10.1136/bjsports-2017-097699

Delahunty S E, Delahunt E, Condon B, Toomey D, Blake C. (2015). Prevalence of and attitudes about concussion in Irish schools' rugby union players.

Journal of School Health, 85

(1), 17-26. doi: 10.1111/josh.12219
(Visited 1 times, 1 visits today)