By Dr Chris Garnett @DrCGarnett and Dr Wing Chu @DrWingChu 
Last July and August, London's Queen Elizabeth Olympic Park came alive for a spectacular Summer of Athletics. The world's top athletes competed in the iconic London Stadium, formerly known as the Olympic Stadium, which saw Mo Farah, Jessica Ennis-Hill, Greg Rutherford and Jonnie Peacock all take glory in 2012. This was the first time for the World Para Athletics Championships and the International Association of Athletics Federations (IAAF) World Championships to happen in the same summer, same city and same stadium. Overall, London saw 260 medal events over 20 days, with an estimated 3400 athletes from around the world.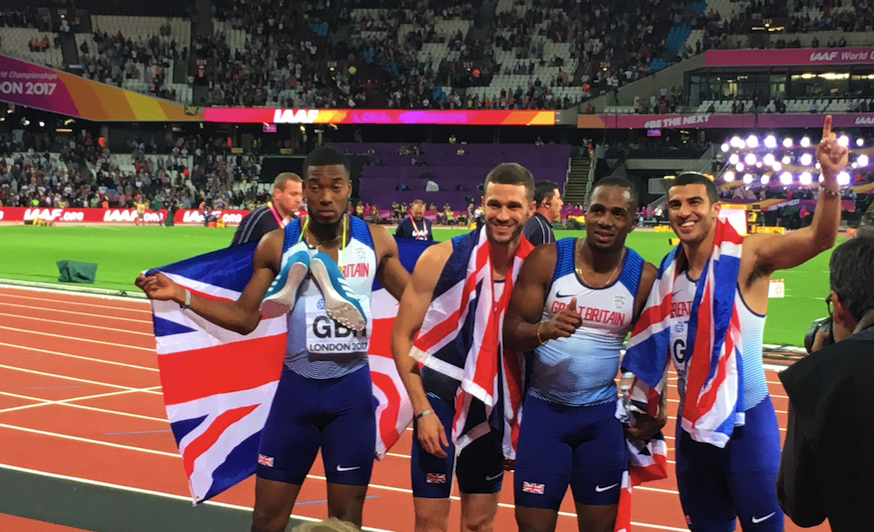 Medical care at the championships was provided by volunteer doctors, nurses, physiotherapists, sports therapists, radiologists and first aiders. The doctors came from a variety of specialties including Sports Medicine, General Practice, Accident and Emergency (A&E) and Anaesthetics which brought together the perfect blend of skills and expertise to oversee this challenging sporting environment.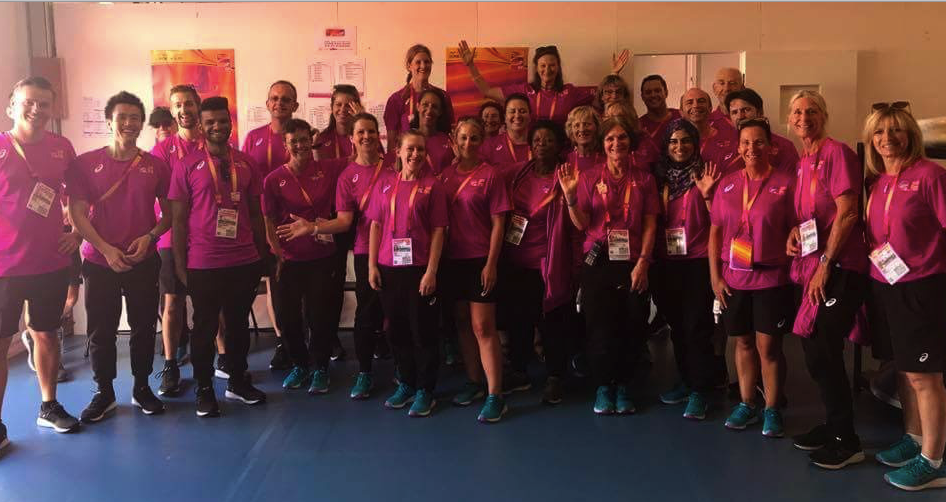 In athletics, the incidence of injuries during international competitions is high with approximately 10-14% of athletes sustaining an injury.1-3 Athletes can also become unwell, and at a recent IAAF World Championships it was estimated that around 7% of athletes incurred an illness.2 Previous research has also shown that disabled and able-bodied athletes have comparable rates of injury.4
Most doctors working at the championships were located within the stadium or on the warm up track in either a field of play or clinic role. Field of play teams comprised of 2-3 medical professionals, usually a combination of doctors, physiotherapists and paramedics, and were strategically placed around the stadium or warm up tracks to ensure optimum views and prompt access to the track and field events.  Prior to each session, the field of play teams assembled in the trackside medical room to check the emergency medical equipment, review the emergency action plan and assign team leaders. Further preparation took place out on the track with teams rehearsing emergency scenarios and discussing difficult cases. Finally individual roles were agreed upon within each team and final checks were carried out. Overall the field of play shifts were relatively uneventful, other than for several lower limb muscle strains and cramps which were in keeping with reported injuries at previous championships.5 Like any sporting event, it was vital that the field of play team were prepared for more serious life-threatening conditions and injuries that could have occurred, including cardiac events, head and spinal injuries. In these situations a rapid response can be critical for survival.
The main medical centre was situated at the warm-up track which was a stone's throw away from the London stadium. This was truly a multidisciplinary environment, with sport medicine doctors, physiotherapists, sports therapists, nurses and pharmacists conveniently accessible to athletes and their support personnel throughout the day. In the evening, an ultrasound scanning clinic was available for on-site musculoskeletal imaging of injuries. In addition to the medical centre, GPs and physiotherapists were based at the athlete hotels dotted around central London and they were supported by clinicians from the medical centre who would provide telephone advice or hotel visits as required.  The majority of patient encounters at the medical centre were for soft tissue therapy or access to the ice baths. The remainder of the encounters were comprised of soft tissue injuries, medical illnesses and medication requests. All medical encounters were recorded using an electronic medical system, allowing all members of the medical team to clearly document and review consultations.
Key learning points:
Leadership and preparation is key. Ensure that all members of staff are aware of their role and who to escalate to if there are any concerns. Briefing and debriefing sessions were invaluable. Check your equipment!
Make full use of the multi-disciplinary team. Advice was readily available from different specialities and plenty of teaching opportunities were available during the quieter moments.
Always make timely and detailed documentation of medical encounters. In the hustle and bustle of a busy clinic, it can be easy to overlook, but if you didn't record it, it didn't happen!
The World Para Athletics Championships and the IAAF World Championships were a sporting spectacle that captured the imagination of the public. For established and budding Sports Medicine doctors and allied healthcare professionals, this was a great opportunity to experience an international multi-sport event in a well-supported and organised medical team environment. We were honoured to have been able to make our small contribution to the delivery of 2 very successful championships.
References
Alonso JM, Junge A, Renstrom P, et al. Sports injuries surveillance during the 2007 IAAF World Athletics Championships. Clin J Sport Med 2009;19:26–32.
Alonso JM, Tscholl PM, Engebretsen L, et al. Occurrence of injuries and illnesses during the 2009 IAAF World Athletics Championships. Br J Sports Med 2010;44:1100–5.
Junge A, Engebretsen L, Mountjoy ML, et al. Sports injuries during the Summer Olympic Games 2008. Am J Sports Med 2009;37:2165–72
Fagher K, Lexell J. Sports-related injuries in athletes with disabilities. Scand J Med Sci Sports. 2014;24(5):e320–331
Alonso JM, Edouard P, Fischetto G, Adams B, Depiesse F, Mountjoy M. Determination of future prevention strategies in elite track and field: analysis of Daegu 2011 IAAF Championships injuries and illnesses surveillance. Br J Sports Med. 2012;46(7):505-514
Dr Chris Garnett is a Sport and Exercise Medicine Registrar (ST6) based in Yorkshire. He currently works at the National Centre for Sport and Exercise Medicine in Sheffield and works with Huddersfield Town Football Club and Huddersfield Giants Rugby League Club. Twitter @DrCGarnett
Dr Wing Chu is a Sport and Exercise Medicine Registrar in the London Deanery and a
General Practitioner. He has previously worked within the military and is currently the Millwall F.C Academy and First Team Doctor. Twitter @DrWingChu
Dr Farrah Jawad is a Sport and Exercise Medicine Registrar and co-ordinates the BJSM Trainee Perspective Blog. @FJSEM
(Visited 1 times, 1 visits today)