A monthly round-up of podcasts and articles
By Zach Spargo (@ZachSpargo) & Steffan Griffin (@lifestylemedic)
Can't keep up with what the latest research on return-to-play is saying? Need direction on where to find all the up-to-date literature and podcasts? This is your place! We've put together the greatest and latest RTP work from BJSM into this Virtual Conference to create ease of access – you can read or listen to all material via clicking the links or downloading the BJSM app.
So if you're on your summer holidays at the moment (or wishing you were!) then get stuck into all your RTP goodness here!
2016 Consensus statement on Return to Sport
First up – This is the big one. Brand new consensus statement on return to play or 'return to sport' (RTS) as is used in the paper. It contains discussion on the definition of RTS and proposes a framework that incorporates the StARRT 3 step model (http://bjsm.bmj.com) and the Biopsychosocial model with appropriate load management. Great stride forward for return to play!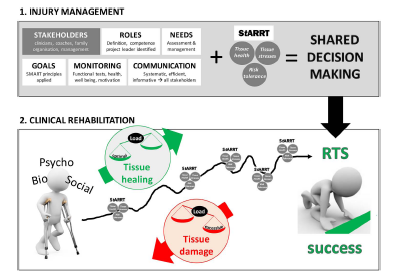 Criteria based return to play. Psychological readiness. How? Whose call? With Clare Ardern
This podcast is a close sibling of the consensus statement above! Clare Ardern explains and answers questions in regard to how fear and anxiety can affect return to play and how we as clinicians can become desensitised to the psychological stresses on an athlete post injury. There is a specific ACL example used to illustrate how we can examine a player's psychological readiness.
To risk, or not to risk: the return to play dilemma, with Roald Bahr
https://soundcloud.com/bmjpodcasts/
Where is the traditional RTP model letting athletes down? How can we be more holistic in our approach? Prof Roald Bahr explains by focusing on physical deficits and the danger of not customising your rehab to individual sport/position requirements. Finally the discussion dives into why sport and health are sometimes opposing entities. Not to be missed!
"I can't return to play" – When fear of re-injury dominates after ACL reconstruction, with Adam Gledhill
https://soundcloud.com/bmjpodcasts/
Now let's get sport specific. Adam Gledhill brings his knowledge of sport psychology (particularly among top female football players) to the forefront in discussing the ACL injury example of 'Joanna'. We hear about specific tools that address psychological readiness and their application and success in real life! Best results achieved with combined reading of this paper bjsm.bmj.com/content.
MRI findings and return to play in football: Hamstring injuries
Big paper here. Prospective analysis of 255 hamstring injuries within elite football was completed by Jan Ekstrand et al. (2016). Some interesting findings! Combine with this podcast if possible! https://soundcloud.com/bmjpodcasts
ACL injuries in men's professional football: a 15 year prospective study
Another ACL source here. This time it's the work of Markus Walden et al. 2016 with their paper on return to play rates after ACL injury. This is currently a very popular paper and shows the startling finding that only 65% of players still play top level football 3 years post rupture. Vital information here.
The brain and mind in chronic pain, with Lorimer Moseley
And finally we'll tie up all the above with some pain science from the master – Lorimer Moseley. It's a BJSM classic. As discussed in all of the RTP work in this virtual conference, one cannot underestimate the factor of psychological readiness. You'll hear how Lorimer proposes clinicians working in sport can use pain science to further inform their athletes.
So that's it. Another virtual conference with all the ingredients to make a RTP soufflé. As always, let us know your thoughts via our various social media channels – Twitter (@BJSM_BMJ), Facebook (BJSM) and Google + (https://plus.google.com/u/0/com). We value and appreciate Feedback!
************************************************
Zachary Spargo (@ZachSpargo) MSc Physiotherapist working within NHS Betsi Cadwaladr, BSc (Hons) Sport and Exercise Science. BJSM Editorial Team and ACPSEM member.
(Visited 85 times, 1 visits today)