By Rishi Dhand @rishidhand7
Excited, nervous, intrigued… I felt all of these emotions and more when I was asked to help as a doctor at the World Artistic Gymnastics Championships in October, 2015. It was the qualifying event for this year's Olympic Summer Games in Rio de Janeiro.
I recognize my fortune to participate at an event of this magnitude whilst my SEM career is so young.  Although a doctor for over 2 years, with experience shadowing and providing support at smaller scale sporting events, this was by far my biggest SEM opportunity to date.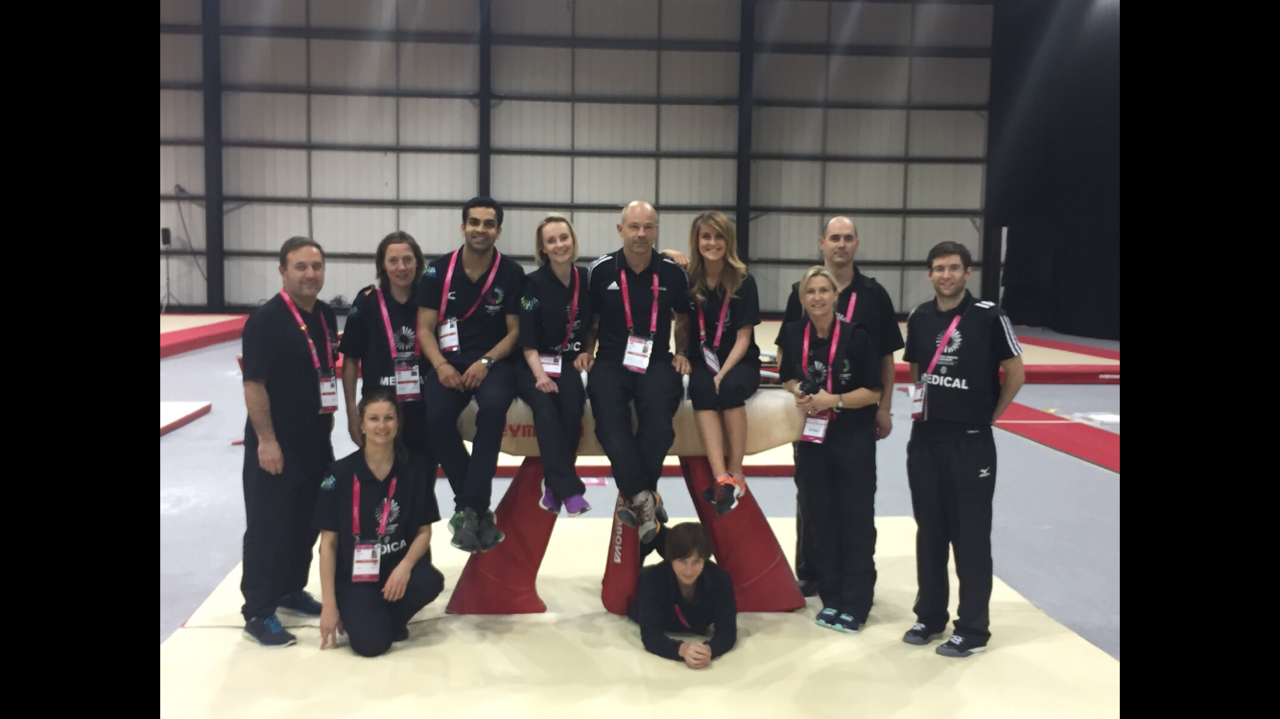 Five things that I learned, and hope to pass on to early career sports medicine doctors:
1) Concentrate
Obviously a vital attribute of any medical professional covering a sporting event. However, it would have been easy to lose concentration whilst watching any of these world-class athletes on their apparatus. Even as someone who hadn't watched much live gymnastics, after a few hours I found myself instinctively recognising when a gymnast was about to land awkwardly whilst they were still in mid air.
2) Learn from the physios.
For each shift, I was paired with a physiotherapist. Many of the physios had years and years of experience. They had worked at Olympics, World Championships, private sports clinics and elite football too. Some of their tips on taping techniques, common injuries and rehabilitation was invaluable and possibly the most educational part of the Championships for me. Not to mention the whole variety of interesting stories to keep us entertained in our quieter moments!!
3) Preparation is key.
Something that you may not realize when you watch an event on TV is the amount of work that is done behind the scenes. 7 am run-throughs in the Arena on the Field of Play, allowing the doctors, physios and paramedics to work in sync. I acted as the 'injured athlete' for a couple of these!
We had morning and evening handovers. This allowed us to discuss injured and/or treated athletes as well as those who were struggling on a particular apparatus. This was vital information for our medical team as it gave us direction of when and where to have heightened awareness.
One example of this was an athlete who had been struggling with an upper limb injury. In his transition from training hall to warm up hall and into the arena, he was identified to each medical team as an athlete at risk. During his main routine, he under rotated on an apparatus and sustained a nasty lower limb injury.  The heightened awareness allowed the medical team to be on their toes on the field of play to promptly treat him.
4) Athletes' passion to compete may outweigh medical advice.
Gymnasts are a set of athletes that are truly dedicated to their sport and they seem to be immune to the threat of danger as they throw themselves over various bars! They were picking up injuries that should have ruled them out, but such was their desire to compete, some ignored medical advice. One athlete had a suspected ACL rupture. He so adamantly wanted to complete his routine that he opted to finish it landing on one leg!
5) Soak up the atmosphere.
I took any chance I had to go into the arena, either in quiet moments during the day or after our shifts.
It was amazing to witness world class athletes on show, watch GB women win their first ever world team medal, GB men win their first ever world team medal, and Max Whitlock become the first man to win gold for GB in a world championship. As you could guess, the atmosphere was electric. It really spurred the medical team to achieve even greater heights and made the experience even more of a privilege.
One of the gymnasts from the USA Olympic medal winning team from 2008 said, "Competing in gymnastics is the greatest reminder of being alive as a human being."   After my experience in Glasgow, I think I've caught that particular bug and I'd urge you to catch it too.
Related BJSM Articles
Daly, Bass, and Finch. (2001). Balancing the risk of injury to gymnasts: how effective are the counter measures? A classic from the archives. Over 20,000 views
Surviving 30 years on the road as a team physician (2013). Peter Brukner. (Members only, not open access)
Same paper as a free blog here.
****************************
Dr Rishi Dhand is a Teaching Fellow at Sunderland Royal Hospital. He wants to pursue a career in Sports Medicine
(Visited 17 times, 1 visits today)