Welcome to our final round in the 2015 BJSM cover competition, where the winners from each preliminary round compete for 'Top cover of 2015'. Beyond the excitement of reviewing our favourite issues, you can enter in a draw for a chance to win one of two prizes. We also feature the winners on the BJSM blog. Voting closes midday Friday 29th London time.
Here are this year's prizes:
Be entered in a draw for FREE REGISTRATION to the 'Return to Play' Football Medicine Strategies Conference, London, April 9-11 2016 (£590 / £350 cash value, educational value: priceless). You have a 1 in 10 chance of winning!
OR
 A sports medicine/sports physio textbook of your choice to a price not exceeding Grieve's Modern Musculoskeletal Physiotherapy (4th edition, 2015).
Simple!! Here's how to qualify for the prize:
1. Vote below for your favourite BJSM 2015 cover.
2. Include your email address for us to contact you if you win – we delete them all after the competition. Your email will not be used for list serve or promotional purposes.
3. Tweet this blog post: mention @BJSM_BMJ and hashtag #BJSMBestCover
AND/OR
4. Like our Facebook page, like the link to this blog, share the link on your own Facebook wall, and hashtag #BJSMBestCover
If you share this post on both Twitter and Facebook you double your chances of winning. But just one prize per person. Fast, fun, and the rewards are big!
2015 covers finalists: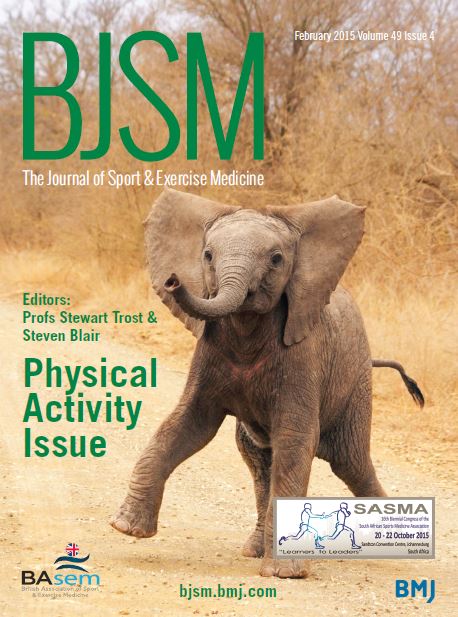 49 (4) Physical activity issue (thanks Professors Trost & Blair)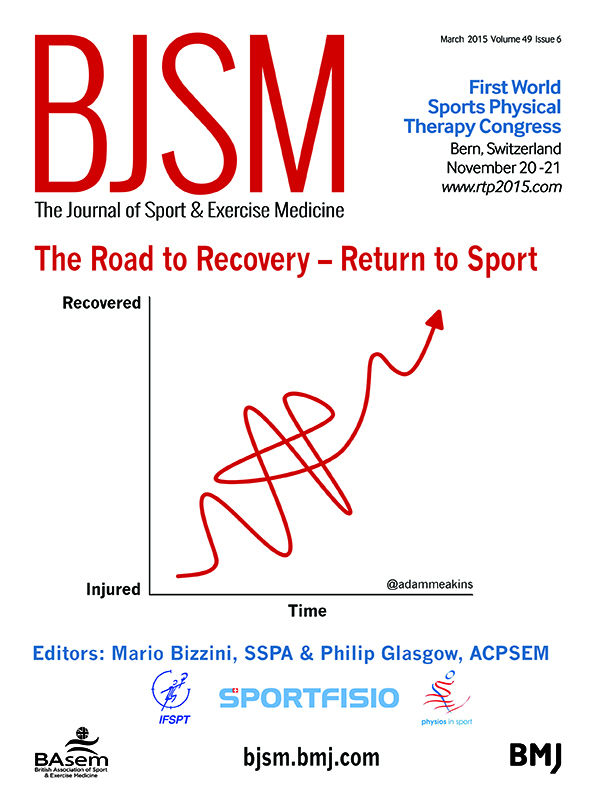 49 (6): Road to Recovery: Return to Sport (#RTP2015) (aka, "Time Travel")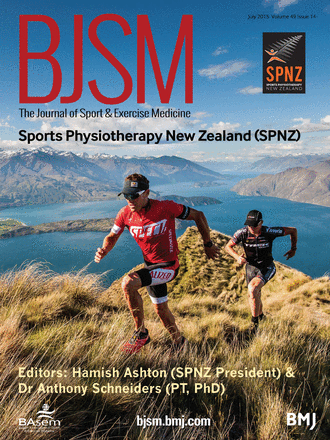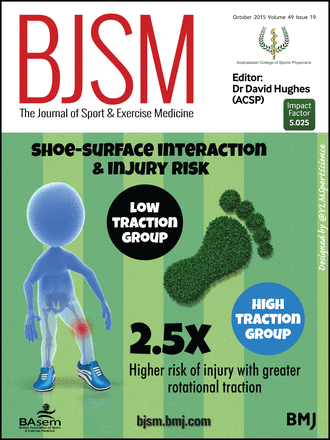 Recap
49 (4): Physical Activity Issue with Profs Trost & Blair
49 (6): Road to Recovery: Return to Sport (#RTP2015)
49 (14): Sports Physiotherapy New Zealand (@SportsPhysioNZ)
49 (19): Shoe surface interaction & injury risk (ACSP, @ACSP_SportsDocs)
49 (24): 8th MuscleTech Network Workshop (@ECOSEPinfo)
VOTE NOW!
[polldaddy type="iframe" survey="F72058438FE96814″ height="auto" domain="cbower" id="bjsm-best-covers-of-2015-grand-final"]
(Visited 12 times, 1 visits today)