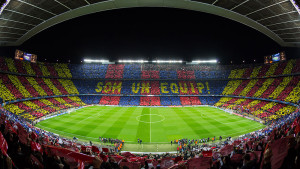 Aspetar, FC Barcelona, ECOSEP and Leitat are convening international specialists and leading muscle and tendon researchers for 3 days of panels and discussions at the 7th Muscletech Network Workshop and 4th ECOSEP Congress. The event will be held: 7th to 9th October 2015 in the famed Camp Nou Stadium of FC Barcelona.
This years topic focus is: Muscle and Tendon, Inspiring Clinical Excellence
The event aims to:
Communicate research findings and discuss their clinical relevance.
Disseminate ideas to build professional and public interest and applicability for the treatment of muscle and tendon injuries.
Geared at specialists in the field, attendees and presenters will analyze, explore and reveal new ways to enhance cooperation between groups of hospital and university research.
Four Sports Medicine Societies will contribute to the Scientific program, upgrading the Congress to a Global Sport & Exercise Medicine Event: AMSSM (@TheAMSSM), ACSP (@, BASEM (@BASEM_uk) and ISMULT.
The 7th MTN and 4th ECOSEP congress will include several workshops led by some the best worldwide experts in sports injuries. These workshops will provide health professionals working with athletes valuable tools, knowledge and new skills to deal with injuries. All participants will have the opportunity to interact with international experts and learn how to design rehabilitation programs for tendon, hamstrings and groin injuries.
Speakers include: Jill Cook, Nikos Malliaropoulos, Xavier Linde and more…
Five Sessions on: Tendon Injuries, Diagnosis, Treatment , Rehabilitation and Prevention
Three sessions on: Muscle Injuries Classification, Treatment ,Rehabilitation and Prevention
One Session on: Nutrition and a Session on Overuse Injuries in Sports
The Opening Session will be on Sports and Exercise Medicine Across the World.
The workshops are free for participants registered for the whole event; you cannot attend the workshops without full registration to the congress. Space is limited, and they will allocate in order of inscription.
The excellent scientific program, the City of Barcelona, and the historic congress venue, are just some of the reasons why you should come to this event and enjoy this unique experience.
We look forward to welcoming you to Barcelona this coming October 2015!
For more information: http://muscletechnetwork.org/workshop/mtnecosep2015-edition/
(Visited 56 times, 1 visits today)