By Dr Efraim Kramer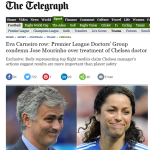 As medical professionals, we have a duty to care for the sporting ill and/or injured. The health and welfare of those on the field of play is primary and paramount. What Mr Mourinho, as a commercially successful, highly motivated and acknowledged coach sometimes seems to deny is that sportsmen and women are not only injured on the football field, but may die and have indeed died. Seven football players died of Sudden Cardiac Arrest in the past three months alone — the youngest was an 11-year-old South African.
Enough noise, criticism and condemnation was make during the FIFA World Cup, Brazil 2014, concerning the various incidents of concussion and management of apparent back injuries for FIFA to update its regulations. Yet along comes Mr Mourinho, counters and criticizes his medical staff for doing exactly what they are meant to do and why they were employed in the first place and yet there is hardly any noise, muted criticism and no obvious condemnation.
I wonder if Mr Mourinho would like the medical staff to leave him lying on the ground in cardiac arrest under after the final whistle because it would not be in the interest of the game to try and resuscitate him whilst the game was in motion. The highly trained, very experienced and well-motivated medical staff who undertake duties during sports events have one primary goal – to care for, or save the patient who lies on the ground needing their assistance, skills and attention. No coach, manager or any other official is going to change that no matter the score, no matter the seeming importance of the match.
I am in full support of Dr Eva Caneiro's management of Chelsea player Eden Hazard in the first round of the English Premier League (2015). Her work clearly met the expected and required scope of FIFA's medical education and teaching philosophies and courses globally, as described by Prof Jiri Dvorak, FIFA Chief Medical Officer. We health professionals need to stand united and firm on this matter.
Dr Efraim Kramer is:
Head: Division of Emergency Medicine, Wits Medical School.
Extraordinary Professor: Section Sports Medicine. University of Pretoria.
Member: FIFA Medical Assessment + Research Center.
Netcare "Angels over Africa" Flight Physician.
(Visited 7 times, 1 visits today)