Undergraduate perspective on Sports & Exercise Medicine – a BJSM blog series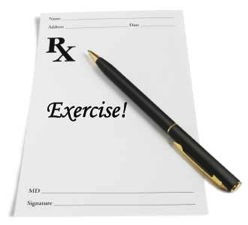 Recently, the term 'Exercise is Medicine' was copyrighted by the American College of Sports Medicine. This particular initiative in exercise medicine focuses on the role of clinicians in helping increase their patients' physical activity levels. Exercise is Medicine has growing influence in the prevention and treatment of non-communicable "lifestyle" disease, and the movement is currently progressing up north into Canada. But a major concern remains: how can physicians follow-up with patients diagnosed with multiple chronic conditions, who need further individualization and support in their exercise programs? Referral to an exercise professional may be an option!
North American organizations as change catalysts 
The Canadian Society for Exercise Physiology (CSEP) is a professional body of exercise physiologists. It is dedicated to the promotion of health, fitness, and performance through the application of knowledge and research related to exercise. As an organization based in scientific thought, applied evidence, and up-to-date advances in exercise physiology research, CSEP and its affiliate members are trained and have a scope of clinical practice related to exercise prescription; they are specialists in the field of health, exercise and rehabilitation. Specifically, a CSEP-CEP (Certified Exercise Physiologist) is certified to evaluate and treat individuals with chronic disease through tailored, progressive physical activity and exercise programs to improve the patients' health and function.
Both CSEP and ACSM may be considered on the brink of changing the application of medical care and symptom management for those with chronic disease and/or suffering from "exercise deficiency." Alongside the individual benefits, a patient could experience from increased structured and / or monitored physical activity (i.e. stabilized mood, increased independent living, stronger immune function, better quality of life, etc.) there follows an implication that exercise physiologists could help to decrease national health care costs long-term, through a decreased need for symptom-related prescriptions, fewer hospitalizations and decreased morbidity & mortality due to lifestyle-related disease.
Working models and available resources
Research from New Zealand and Great Britain exemplifies working models of physician-based exercise counselling and referral through the Green Prescription and Exercise Referral Scheme health promotion programs. In Canada, official and widespread programs are not yet in place for physical referral to exercise professionals.
Until such programs are developed, engaging an accredited exercise physiologist is relatively easy from a community and health care standpoint, says Katherine MacKeigan (Director of the Provincial Fitness Unit, located in Edmonton Alberta).  Interested individuals can access the online registry of CEPs or access services through widespread fitness appraisal centers; 27 of which are in the province of Alberta alone.
Although referral is not necessary for patients with varying chronic disease or physical disability, any practicing primary care physicians who can access the referral system can send patients with extended needs and long-term exercise supervision to a CEP. Costs range from CAN $20-150+ per session. Currently the services of a CEP are not covered under the provincial health care fee schedule. Although, certain employee benefits and extended health care may cover assessments for qualified individuals (e.g. through a health spending account). Katherine MacKeigan certainly encompasses a powerful idea with the question "How much is your health worth to you?"
Knowledge transfer as a way forward
The short and long-term positive health implications for persons affected by lifestyle-related disease could be huge if exercise professionals had increased contact with at-risk populations. How can we increase knowledge and awareness of this field of exercise medicine? How can we successfully promote healthy lifestyles through physicians and exercise professionals? One possible avenue is through knowledge transfer (KT), or academic detailing. This process involves an independent organization educating the professional or a group of professionals, using evidence-based and individualized methods to most effectively reach the target audience [1]. This process can help to bypass barriers that even the most experienced clinician can face on a daily basis; a lack of time, energy or desire to self-educate directly from the literature is a common issue in research-based clinical practice. KT helps bring the newest research into the practice of the clinician in a relevant, timely, packaged manner, and it could help to bring the advantages of exercise and exercise professionals to light in the field of medicine.
What do you think? Does exercise physiology and knowledge transfer seem like an important component of the medical field? Should we be teaching those students responsible for the future promotion of physical activity these skills during their undergraduate studies? Is there another avenue or profession that we can explore to help patients with chronic disease return to function and increase their quality of life?
References
Campkin L, & Doyle-Baker PK. (Spring/Summer 2012). Five Reasons for Knowledge Transfer. Fitness Informer
Lisa Campkin is a MSc Student, University of Calgary under the supervision of Dr. PK Doyle-Baker. She is interested in exercise physiology, seeing it as a gateway to a decreased incidence of chronic disease worldwide, as well as decreased symptomology and better quality of life for previously diagnosed patients. She can be contacted at lmcampki@ucalgary.ca
Liam West BSc (Hons) is a final year medical undergraduate student at Cardiff University, Wales. He coordinates the "Undergraduate Perspective on Sports & Exercise Medicine" Blog Series for BJSM.
(Visited 8 times, 1 visits today)