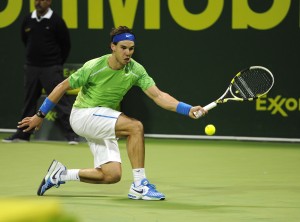 The 'moneyball' type of quants who know these things tell us that BJSM podcasts will break 100,000 downloads between May 19 and May 29. This is an interesting juxtaposition of dates as they correspond to Ho Chi Minh and John F Kennedy's birthdays, respectively.
Listeners all over the world have commented on the free BJSM podcasts and you can keep them from disappearing behind pay walls by 'liking' our Facebook page between now and February 10th or commenting there or on Twitter (@BJSM_BMJ). Tell us what your favourite podcast as been please!
Right now the easiest way to scan for your favourite podcast is to look at the guests' names on the podcast page. The good news is the BMJ are putting in fancy new software as I write this so it will be easier to search by topic (shoulder pain? howzabout Ben Kibler, Anne Cools, Jeremy Lewis or Mark Hutchinson for starters). We'll keep you apprised. Feel free to ask your questions to the Facebook Oracle or into the Twitterverse of course (@BJSM_BMJ). Or, if you are like my 85-year old mum, only just getting a handle on email via your iPad, you can email karim.khan@aspetar.com for the next few months.
You missed what was hot last October please click here. And if you are a history buff our 2011 podcast summary is here.
And for those who are keen on numbers, we have had >84,000 downloads to date and we get >5,000 downloads a month. (That's how HCM and JFK get into the picture).
What podcasts are the most popular?
The top three "All time most popular" are:
The top three most popular in the last 30 days were:
Finally, a sneak preview – we are recording podcasts from different countries asking 'what are the secrets of success?'. You'll hear the best from Italy, Spain, why Team GB did so well in the Olympics, and insights from Team USA. We are doing podcasts in a series of languages to reflect BJSM's international mandate.
All this and much more as they say on the late-night knife commercials. (But does anyone watch TV any more?). If you have ideas or want to volunteer to interview feel free to email your suggestion. If you want to send a quality MP3 file – go for it.  (karim.khan@ubc.ca).  PS: We appreciate your volunteering to interview Rafa Nadal and Maria Sharapova but we have them covered in house.
(Visited 4 times, 1 visits today)