Undergraduate perspective on Sport & Exercise Medicine – a BJSM blog series
By Liam Newton @newton_liam  and Sean Carmody @seancarmody1 
Today's sports medicine clinicians have a wealth of quality educational resources on tap. The British Journal of Sports Medicine blog series, podcasts and original articles are easy examples to cite. They are also complimented nicely by many others including the Aspetar Sports Medicine Journal, Yann Le Meur infographics and Physio Edge Podcasts. However, back in 2016 we recognised that the extent of resources tailored specifically to undergraduates didn't reflect the burgeoning interest among that population. Thus, the Undergraduate Sport and Exercise Medicine Society (USEMS) eMagazine was created to serve students who are passionate about SEM.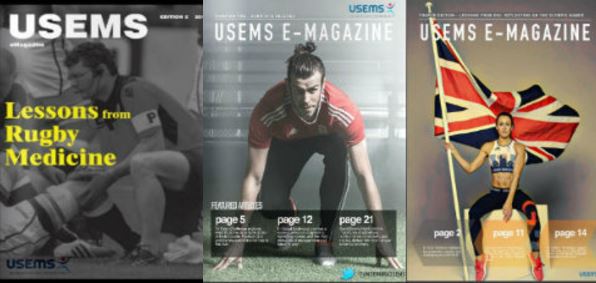 The aim of the publication is to inspire the next generation of sports medicine professionals by providing expert analysis, insight and comment from prominent figures within the field in a modern, easy-to-read format. Similarly, it allows a platform for undergraduate students to write and contribute their unique perspective on key issues within the specialty. We want to produce content which generates debate, raises contentious issues and is as equally appealing to established clinicians as to students.
Perhaps the most valuable aspect of producing the eMag has been the opportunity to engage with and build relationships with influential clinicians and researchers in sports medicine. Their willingness to volunteer their time to create quality content to advance student knowledge of sports medicine is a huge testament to the spirit of collaboration and sharing within the specialty. In addition to their efforts, this simply wouldn't have been possible without the design genius of Dr Fadi Hassan (and my architect sister Rachel Carmody for the 2nd edition!).
To wet the appetite, below we have list 10 important quotes taken from the editions published to date:
All editions are available through this link: http://www.basem.co.uk/usems/usems-emagazine/
If you would like a .pdf copy of any edition, please email seanocearmaide@gmail.com
Liam Newton works as a musculoskeletal physiotherapist in the NHS as well as AFC Bournemouth Academy. You can find him on Twitter @newton_liam.
Sean Carmody is a junior doctor working in London. He tweets regularly on topics related to sports medicine, health and high performance @seancarmody1.
Jonathan Shurlock is an academic foundation year 2 doctor based in Sheffield. He coordinates the BJSM Undergraduate Perspective blog series. If you would like to contribute to the blog series please email jhshurlock@gmail.com.
(Visited 16 times, 1 visits today)