Friday 28 July 2017 • Torrington Place, London, WC1E 7JE
UCL Eastman Dental Institute and partners invite you to join us for a ground breaking, one-day symposium in sport and exercise medicine and oral health. Expert speakers will explore:
State-of-the-art developments and future of sport nutrition (Dr Kevin Currell & Prof. Ron Maughan);
Sport nutrition and health (Dr Dan Kings);
Eating disorders & RED-S in athletes (Dr Anna Katarina Melin)
Oral health & sport performance (Prof. Ian Needleman, Dr Paul Ashley & Dr Julie Gallagher).
We will discuss how to maximise performance and minimise negative performance impacts. The symposium will be highly relevant to sport and exercise medicine clinicians and scientists, nutritionists, performance directors, dental care professionals and researchers. See the full schedule
Reserve your place: www.ucl.ac.uk/eastman
The Symposium will be held in collaboration with the NCSEM and ISEH who, together with the Centre for Oral Health and Performance, are collaborating members with the IOC.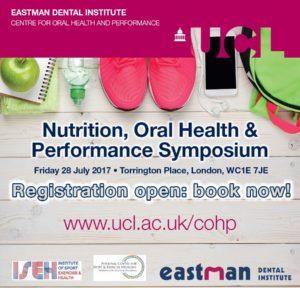 (Visited 5 times, 1 visits today)