By Sean Carmody and Nirmala Perera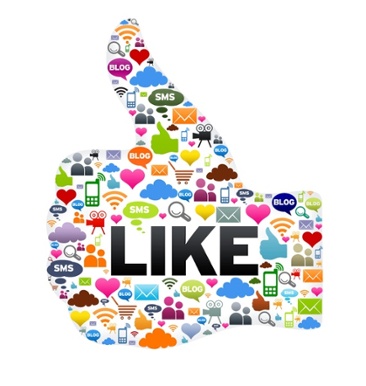 Sport and Exercise Medicine has a lot to thank Jack Dorsey and Mark Zuckerberg for. Their brainchildren – Twitter and Facebook, respectively – have transformed how information is shared among those interested in the specialty. These platforms provide 'all access, backstage passes' that foster conversation and networking opportunities with peers across the globe – geographical, hierarchical and time constraints are removed.
While Facebook and Twitter dominate social media in #SEM, Instagram and Snapchat are increasingly popular among the tech/SoMe savvy, many of whom are undergraduates. These 'millennials' are often accustomed to list-based articles beginning '10 things you need to know about..' and 'snaps' lasting less than ten seconds. It is therefore crucial for sport and exercise medicine to embrace this 'new' social media to appeal to the next generation. Here, we make the case for integrating the words 'snap' and 'insta' into the sport and exercise medicine vernacular, and using these platforms for dissemination.
Social media is an established platform for knowledge transfer and dissemination of research in sports medicine (1). With 80,000+ followers across Twitter and Facebook (as of February 2017), the BJSM effectively uses social media to promote open scientific discourse, providing 24/7 connectivity and propagating interdisciplinary conversations. Their presence is complimented by many others including Yann Le Meur and his pioneering infographics that have inspired a renewed emphasis on improving data visualisation (2).
But social media's contribution to sports medicine isn't just limited to promoting the latest research in the field. Its impact runs deeper. It can provide professional guidance in otherwise challenging circumstances (3). Also, in recent years we have seen how it can influence a change in health policy (4), raise awareness of the recognition and management of concussion (5) (6) and measure the response to emerging sports medicine interventions in real time (7).
These aren't isolated achievements – there are numerous examples of effective social media that furthers our specialty's ultimate goal; to promote the health and well-being of all who participate in sport and exercise.
The Rise of 'new' Social Media
Rumour of Facebook and Twitter's demise among teenagers is likely greatly exaggerated. Nevertheless, there are persistent press reports indicating a trend among younger people towards the more frequent use of social media applications such as Snapchat and Instagram versus older platforms (8). With this in mind, sports medicine must position itself strongly within these communities to inspire and engage the next wave of undergraduates to advance our specialty. A brief glance at the hashtag #sportsmedicine on Instagram (there are nearly 70,000 posts indicating the movement is well underway) demonstrates many effective uses of the medium in the context of sports medicine. While its function is likely to develop and evolve over time, we have identified three examples of organisations or individuals using Instagram effectively in a sports medicine context at present:
BJSM- Infographics
The British Journal of Sports Medicine has extended their prolific social media presence to Instagram, featuring a wealth of resources including key conference slides, information regarding BJSM podcasts and infographics. Infographics + Instagram = High Impact, with salient points easily summarised in an engaging manner: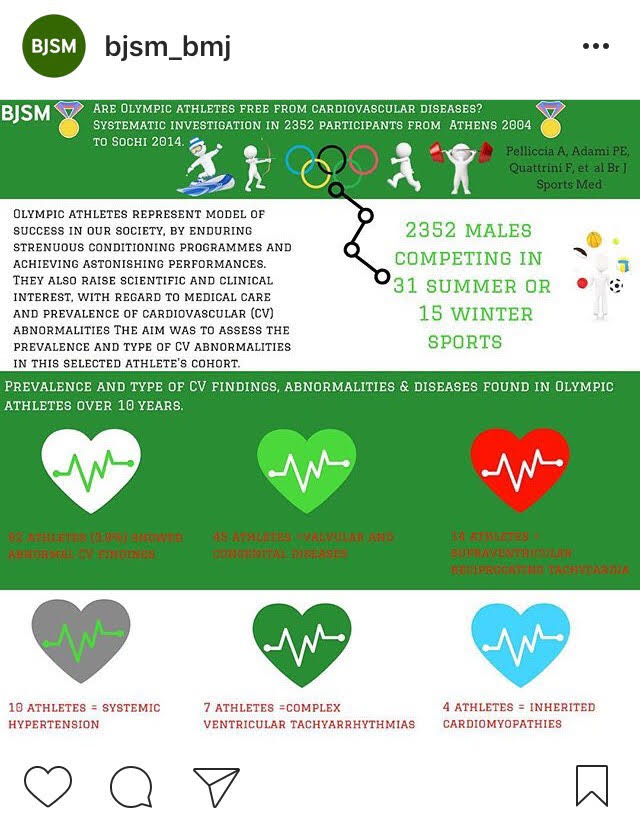 Johnny Wilson – Head of Sport Science and Medicine at Notts County FC
It's refreshing to see such openness and transparency from a football club's medical department. Johnny Wilson, head of the medical department at Notts County FC, shares rehabilitation protocols via regular video updates of exercises used by professional players on their path to returning to play. The two-part video series of a simulation undertaken by the medical department on the Evaluation and Management of Anaphylaxis in Professional Football was informative to junior doctors. A recent post outlining the club's match day medical emergency action plan was another example of how senior practitioners can impart knowledge onto emerging clinicians: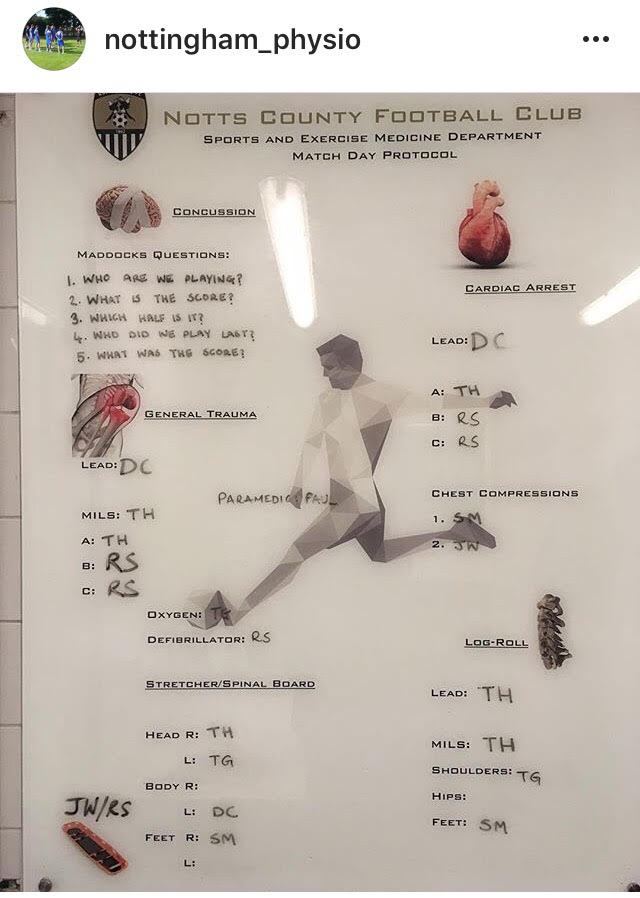 Dr John Sykes – Promoting Exercise as Medicine
Social media is congested with individuals offering lifestyle advice, with the quality of advice often highly variable. However, it is welcoming to see a general practitioner taking a lead on promoting proactive healthcare online. John Sykes, a GP based in Bath, shares key health messages online and uses the text box to provide greater detail on his messages: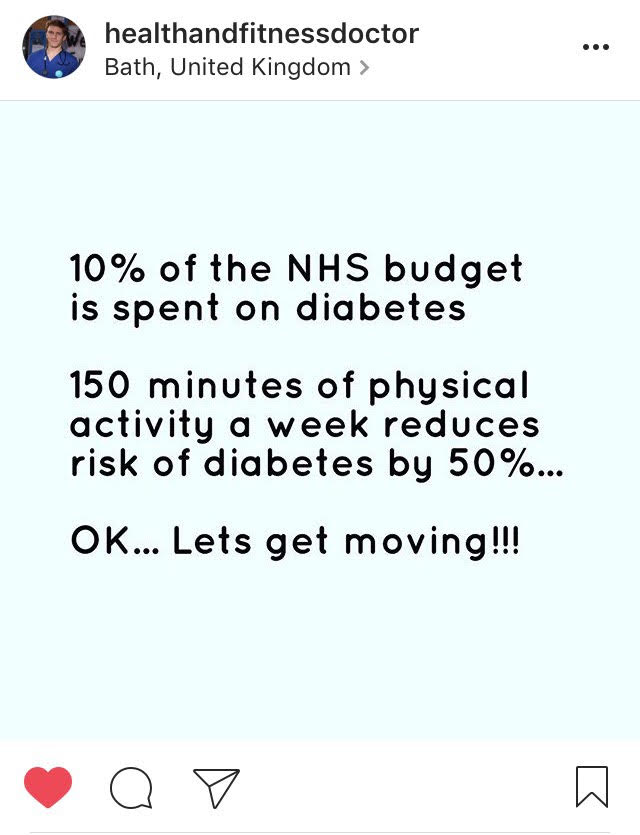 Summary
Twitter and Facebook have revolutionised how information is shared among sport and exercise medicine practitioners. However, with the popularity of applications such as Instagram and Snapchat soaring, particularly among the younger generation, it is important to incorporate these habits into SEM social media strategy. By doing so, SEM can position itself strongly to inspire the emerging generation of undergraduates interested in sports medicine. The effective use of 'new' #SoMe platforms offers a range of opportunities to communicate, connect and network which may ultimately contribute to improving athlete health and welfare.
What have we missed?
Are you aware of other individuals or organisations sharing useful sports medicine content on Instagram or Snapchat? We'd love to hear – tweet us (excuse the irony!) @Nim_Perera and @seancarmody1.
The IOC World Conference on Prevention of Injury & Illness in Sport
The sports medicine world will be making a familiar pilgrimage to Monte Carlo this week for the IOC World Conference on Prevention of Injury and Illness in Sport. As ever, social media will play an important role during the conference – join the conversation by using #IOCprev2017.
********************
Sean Carmody is a junior doctor working in London. He tweets regularly on topics related to sports medicine and performance @seancarmody1.
Nirmala Perera (@Nim_Perera) is a researcher at the Australian Centre for Research into Injury in Sport and its Prevention (@ACRISPFedUni). She is the @IOCprev2017 #SoMe campaign coordinator.
References
Verhagen E, Bower C, Khan KM., How BJSM embraces the power of social media to disseminate research. Br J Sports Med 2014;48:680-681.
Scott H, Fawkner S, Oliver CW, et al. How to make an engaging infographic? Br J Sports Med Published Online First: 30 December 2016. doi: 10.1136/bjsports-2016-097023
Ahmed OH, Weiler R, Schneiders AG, et al. Top tips for social media use in sports and exercise medicine: doing the right thing in the digital age. Br J Sports Med 2015;49:909–910.
Weiler R, Neyndorff C. BJSM social media contributes to health policy rethink: a physical activity success story in Hertfordshire. Br J Sports Med 2013;47:593-594.
Provvidenza C, Engebretsen L, Tator C, et al. From consensus to action: knowledge transfer, education and influencing policy on sports concussion. Br J Sports Med 2013;47:332-338.
Sullivan SJ, Schneiders AG, Cheang C, et al. 'What's happening?' A content analysis of concussion-related traffic on Twitter. Br J Sports Med 2012;46:258-263.
McKay C, Stokes K. The crowd goes wild: The dissemination of concussion risk information on Twitter in response to the removal of headgear in men's boxing at the Olympic Games. Br J Sports Med 2017;51:361-362.
Hoelzel M., New Study Shows Instagram and Snapchat beating Twitter Among Teens and Young Adults. Business Insider March 2014.
(Visited 25 times, 1 visits today)