Sport and Exercise Medicine: The UK trainee perspective

 

–A BJSM blog series
By Ajai Seth and Chris Tomlinson
On January 25th 2017, para archers from all over the world gathered in Dubai, United Arab Emirates, for the 3rd Fazza International Para Archery Championships. I was fortunate enough to travel with the Great Britain (GB) team. I was previously unfamiliar with the sport, and I learnt a great deal serving as the team doctor.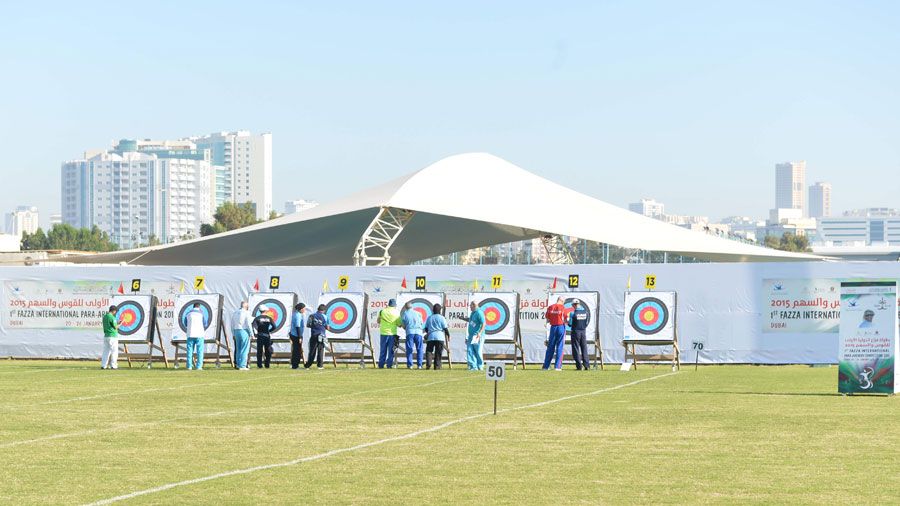 Archery GB led the world at the Paralympic Games in Rio with 6 medals including 3 golds. Their next Paralympic cycle is already underway.  Seventeen of GB's top para archers participated here in the first warm weather training and competition of the four-year cycle. This was also good preparation for the upcoming World Archery Para Championships in Beijing later in the year.
Para sport and classification systems can leave even the brightest amongst us scratching our heads, and para archery is no exception. Any archer can apply to be classified at international level through their national governing body. Since 2014, para archery includes three competition divisions: recurve open, compound open and W1. These divisions allow athletes to use modified-specification recurve and compound bows. Only a thorough classification examination determines whether an athlete can compete in any category. However, there are basic differences between the three:
Recurve open: These athletes compete by standing, stool or wheelchair and have upper and/or lower body impairment. They must use a standard recurve bow which conforms to World Archery rules. Competition rules are the same for able bodied recurve competition, with a ranking round consisting of 72 arrows at a target 70 metres away.
Compound open: Similar to recurve open, compound open athletes must use a standard compound bow and vary in upper and lower body impairments. A 72 arrow ranking round is still in place but this time the target is set at 50 metres. Head to head matches are resolved using a 15 arrow shoot out.
W1: All W1 athletes compete in a wheelchair but may shoot with either recurve or compound bows with slightly modified rules. W1 recurve athletes may use mechanical release aids, but the peak draw weight is limited to 45lb. The use of peep sights or leveling bubbles is also limited.
Role of the Team Doctor
Looking after a Paralympic team has its own set of unique challenges. Part of the role as team doctor in preparation for the Fazza Championships was to ensure that the pre-travel medical screenings for all the athletes and staff were done. A team of para athletes will present with a wide variety of complex medical pathologies and potential emergencies such as autonomic dysreflexia and infections. Of particular importance is careful considering of each individual athlete's care requirements. This may include changing and showering facilities, bathroom and lift access. Transport to and from airports, training and competition venues also needs to be carefully considered before the departure.
Back in the UK, the Paralympic Podium Programme is dedicated to supporting mature, highly skilled elite archers as they aim to win medals in major competitions, such as European and World Championships and The Paralympics. Para archery training facilities are based at The Archery High Performance Centre at Lilleshall. Once on the programme, athletes can access the new state of the art facilities and analysis equipment including:
A new outdoor archery range (70m) with a covered technical area.
A refurbished indoor range (70m) with high speed motion analysis cameras.
New support staff facilities and communications facilities.
The English Institute of Sport provides Sports Medicine and Sport Science support for the archers, and I am based here as part of my training scheme, learning the demands of a high class disability sport and support team.
To find out more about archery or para archery, please visit http://www.archerygb.org.
***************************
Dr. Ajai Seth is a Sports and Exercise Medicine registrar and General Practitioner in the West Midlands. His sporting interests include racket sports, golf, football and expedition medicine. He is currently Birmingham City Football club academy doctor and works at the English Institute of Sport.
Dr. Chris Tomlinson is the Chief Medical Officer to British Gymnastics and Archery GB and a Senior Sports Physician at the English Institute of Sport.
Farrah Jawad is a registrar in Sport and Exercise Medicine in London and co-ordinates the BJSM Trainee Perspective blog.
(Visited 7 times, 1 visits today)