Sport and Exercise Medicine: The UK trainee perspective

 –

A BJSM blog series
By Clint Gomes
In March of this year I had the fortune to work at the 2016 Track Cycling World Championships in London. This was the first time that the annual event was held in the UK since the 2008 World Championships in Manchester. I was similarly lucky enough be track-side and witness Team GB winning 9 of the 18 gold medals on offer. Unsurprisingly I was extremely excited about the opportunity to work at this year's competition but also prepared to be extremely busy!
The event took place at Lee Valley Velopark in London (nicknamed the 'Pringle' after a well-known potato-based snack). As an Olympic and World Championship standard track it measures 250m in length with banking of up to 45 degrees at each end. The five days of competition saw 390 riders from 42 countries take part in 10 events – namely the sprint, keirin, time trial, scratch race, Madison, points race, individual pursuit, team pursuit, team sprint and omnium. The latter is the track-cycling equivalent of the heptathlon and decathlon seen in athletics and comprises 6 events – a scratch race, individual pursuit, elimination race, time trial, flying lap and points race.
Track-medical team and approach
The track medical team primarily consisted of two doctors and two paramedic teams. Each morning we reviewed the days racing schedule and identified the events with a higher than average risk of collisions/accidents – generally those with multiple bunched riders and particularly those involving bunched sprints. On paper the Madison with its 32 riders completing 200 laps (50km) with 10 sprint laps, constant overtaking, undertaking and arm-sling changeovers is a recipe for disaster but thankfully wasn't due to the immense skill of the riders! During these higher-risk races, a doctor was situated at the entry point to each straight (with paramedic back-up), ready to rapidly access the track in the event of an accident.
As with all pre-hospital care the most important consideration was for personal safety, especially since the riders can reach speeds in excess of 80kph during sprints and can therefore be passing the same point of the track again (and potentially an injured rider) within 10-15 seconds. Like elite athletes in many sports I discovered that the riders were extremely tough and would often be in the process of getting 'back in the saddle' in order to re-join the race as I arrived on scene. In cases where an athlete required further track-side assessment and the race had not yet finished, the race would often be neutralised (racing suspended) by the race officials until the athlete had been assisted or immobilised and transported from the scene.
Risk of crashes and typical injuries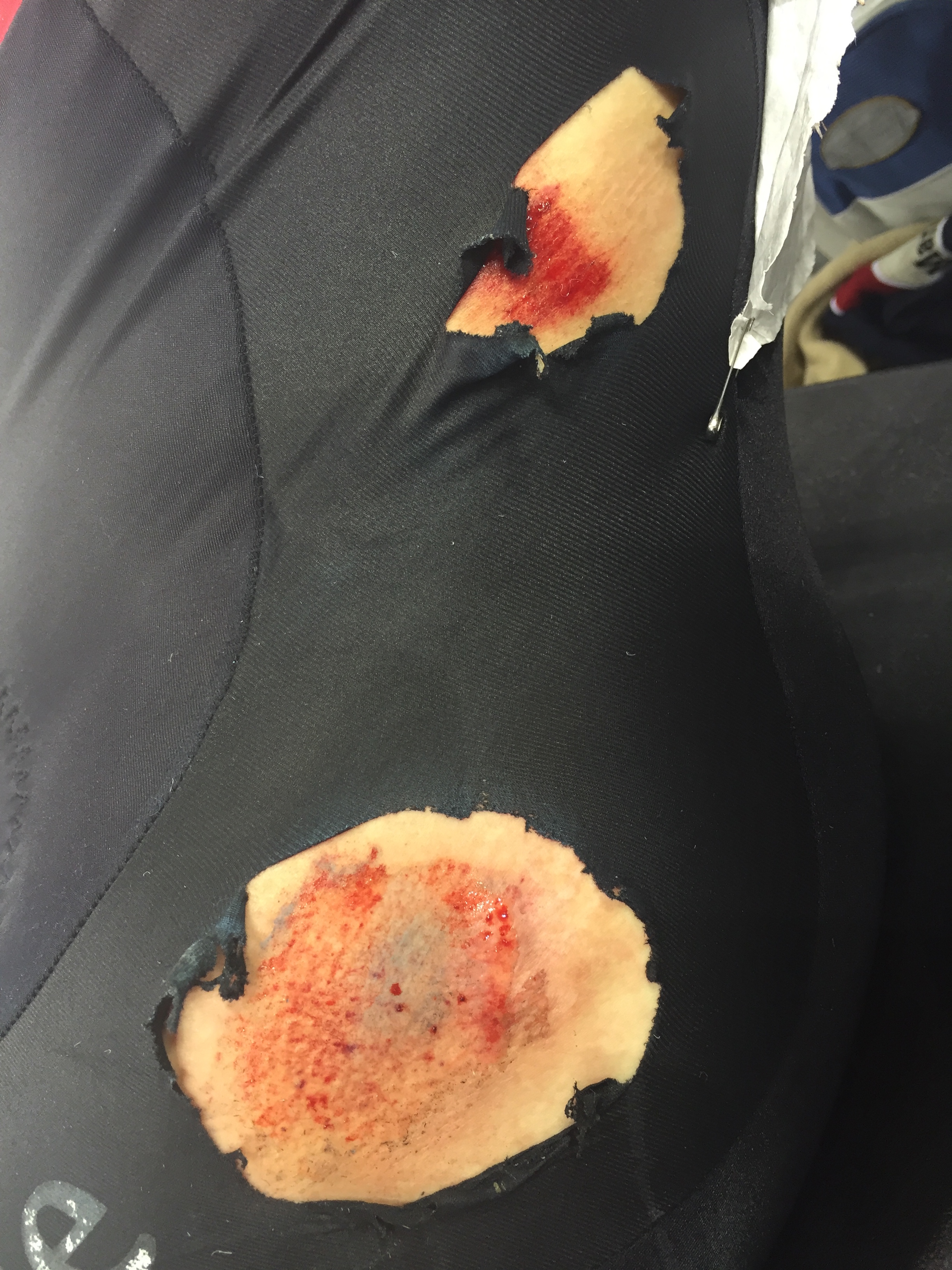 Over the course of the event there were 10 crashes involving 19 riders, usually involving between 1 and 3 riders per crash. Crashes were evenly spread across the keirin, omnium elimination, points and Madison races. Only one rider required immediate treatment and immobilisation prior to hospital transfer. Seven other riders subsequently presented to the medical team after the race with the others most likely being seen and treated by their team's own doctor. The majority of injuries seen were abrasions with two riders also being suspected of having sustained a fractured clavicle.
Abrasions of varying size and depth are the 'bread and butter' of track cycling injuries. They are often contaminated with splinters from the wooden track necessitating removal to prevent tattooing. This was carried out using lignocaine gel and a surgical scrub brush with an appropriate instrument to remove more deeply embedded splinters – unless particularly large and requiring surgical removal as was the case for a Malaysian sprint cyclist in 2011! Thankfully more severe injuries are very rare although a British cyclist did sustain pelvic and vertebral fractures in a sprint race earlier this year – illustrating the need for the track-side medical team to be appropriately trained and suitably experienced to deal with major trauma.
Ultimately the event lived up to my expectations and although tiring it was thoroughly enjoyable. I feel very privileged to have witnessed up-close some amazing displays of speed, endurance , bravery and tactical nous by the riders with the highlight being Mark Cavendish and Sir Bradley Wiggins teaming up to win the Madison in the most dramatic of fashions to repeat their success in the same event in 2008. Yet again Team GB managed to come out on top of the medal table with 5 golds and 9 medals in total. I for one will certainly be staying up and 'tuning in' to see how they get on in Rio later this year!
Clint Gomes is an ST6 SEM trainee in the North West currently based at the English Institute of Sport in Manchester. Prior to entering the programme he completed training in Emergency Medicine. He has a particular interest in the management of musculoskeletal injuries, physical activity promotion and sports event medical cover.
Farrah Jawad is an ST5 SEM trainee in London. She co-ordinates the BJSM Trainee Perspective blog.
(Visited 12 times, 1 visits today)