A monthly round-up of podcasts and articles 
By Steffan Griffin (@lifestylemedic)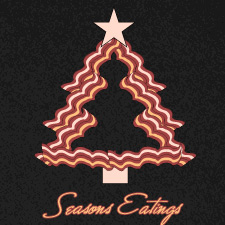 In the final virtual conference of 2015, the topic is one that is probably most relevant at this time of year – nutrition! Whilst no one should feel guilty about using the time to rest and relax with friends and family, the majority of the population will at some stage want to shed some of the Christmas pounds, and may ask you for advice…
To make it easier for you, we thought we'd collect the most popular nutritional podcasts & papers on the BJSM site – we hope you find them useful (if not interestingly controversial!). Don't forget to check out our last virtual conference on running, which may come in handy when advising people with well-meaning new-year resolutions!
High-fat for health http://bit.ly/1PcNdDe
A great chat between two legends – Tim Noakes and Peter Brukner. Noakes talks about his views on carbohydrates, and how his experience of a very low carb diet has changed the way he views the decades old advice of low-fat intake – particularly when it comes to treatment of patients with type-2 diabetes and cardiovascular disease. They discuss this diet in the specific setting of sport – long distance and football codes #LCHF
You can't outrun a bad diet http://bit.ly/1bW7Cxi
This is not only one of the BJSM's most popular podcasts (and editorial), it made headlines around the world and started an international conversation on whether the science supports the notion of energy balance. Karim Khan puts Aseem Malhotra under the spotlight here, and it makes for fantastic listening! You can also listen to Aseem talk on the role of diet in cardiovascular disease, in yet another hard-hitting podcast http://bit.ly/1JwVX2U
The science behind low carb diets for athletes: A rational approach http://bit.ly/1PcNTZj
Is a high-carb diet a requirement for optimal endurance performance? What if that failed to take into account the physiological changes that occur with adaptation to low carbohydrate diets? Stephen Phinney delves into 30 years of research around low-carb ketogenic diets, covering potential benefits in sporting contexts, common criticisms, and future research in the field
The impact of diet on obesity and type 2 diabetes mellitus http://bit.ly/1H3EwtH
We know the guidelines and what the science shows, but does it work in practice? Jason Fung explains the evidence behind the impact of diet on obesity and Type 2 Diabetes Mellitus (T2DM). We also hear how the calories in/calories out model that has previously been described is incorrect, and how T2DM should not be considered a chronic progressive diseases, due to its preventability and reversibility. A thought-provoking concept!
Fit vs Fat….http://bit.ly/1BbJYUA
For an overview of where diet fits into the overall notion of 'health', we spoke to Steven Blair, whose research was instrumental in helping physical inactivity gain recognition as a global public health issue. He discusses the wealth of evidence he's built up on the benefits of exercise, why physical inactivity is a bigger problem than obesity, and how much and of what we should all be doing. A must-listen!
——
So there we go! We hope you find these resources, which feature some of the most prominent names in the field extremely useful. Please do let the BJSM know your thoughts/questions on twitter, Facebook and in the Google+ SEM community, we are always open to suggestions for new topics! That just leaves us to wish you a lovely festive period and best wishes for 2016, see you in the New Year!
(Visited 5 times, 1 visits today)