Association of Chartered Physiotherapists in Sport and Exercise Medicine blog series @PhysiosinSport
By Michael Whichello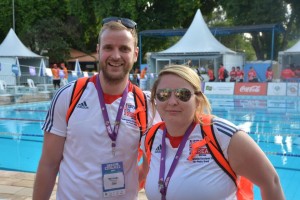 For any athlete, representing their country is often the pinnacle of their career. For all without exception comes pride, and an overwhelming sense of personal achievement. Early mornings, late nights, social sacrifice and often minimal funding – successful athletes are born out of a foundation of commitment, dedication and an intrinsic drive to achieve.
The kudos of representing Team Great Britain (GB) is by no means exclusive to athletes. Ask any Physio, doctor or coach with an interest in working in sport: covering a Team GB event is a dream. When the opportunity to travel with Team GB to Sao Paulo in Brazil came through, to say I was excited, proud and astonished is no exaggeration. Thankfully, it didn't disappoint. However, exciting as the trip was, and at the risk of this sounding like a shamelessly narcissistic bio, it's important to understand the processes involved in reaching the dizzy heights of national representation; this is rarely realised independently. In sport, coaches, managers, physiotherapists, often play a significant role in the making of both successful individuals and teams.
In amateur sport particularly, the level of synonymous and often selfless commitment to a common cause is imperative. My experience of working with National League Hockey club, Beeston is a prime example of this. This was my first, and to date, most important experience of working in an elite environment. No egos. No hidden financial motives. No yearning for recognition. Just an exceptional group of down to earth and talented athletes, working collaboratively with the support staff towards National Championship titles in 2 of my 3 seasons there.
Admittedly at times, it was tough. Two evenings a week after a full days' work, and, not uncommonly, a whole weekend dedicated to travelling up and down the country with hockey, for what effectively amounted to 'expenses'. Working alone, isolated, questioning my own knowledge and abilities, and at times getting things wrong. Occasionally the feeling of being undervalued, and even undermined would creep in. You begin to question your role – am I just a glorified first aid certificate holder? A tick in the 'health and safety provision' box? Friends, colleagues and often I myself in fact, questioned if this was really worth all the time and effort.
But then I left.
It's only really at this point where you truly come to appreciate the significance of your role as a physiotherapist with a championship winning team. The kind messages of thanks from players, internationals, coaches and managers was testimony of their appreciation for my position as a physiotherapist, but moreover I think, for my commitment to the cause. An elite athlete craves a stable environment in which to train and prepare for competition; the stability of their pre-match routine, their choice of music, and the responsibility for bringing the speakers, having enough time to relax before competing, and time to mentally 'tune in'. Being safe in the knowledge that there is a physiotherapist there if needed shouldn't be underestimated, and is all part of this stability. I often viewed my role at Beeston as another 'job'. I had to be there, unless there was a very good reason, I felt obliged. So aside from the back end of my first season, where personal circumstances dictated that I couldn't commit, more often than not, I was there, home or away, rain or shine.
People frequently ask me how best to get into sport, but by no means am I a very 'experienced' physiotherapist in the world of sport. To the contrary, I am in fact in the very early phase of my career, albeit a very exciting one. My 'journey' thus far carries an important message to anyone wanting to get into sports physiotherapy:
The market is saturated with keen and willing new graduates, chomping at the bit, and very forthcoming in offering their services. As a result of this, in the early stages, positions are often unfunded and lacking in 'senior support'. You only need to look on the jobs listed on UK Sport to see how many of these are offering 'expenses' in the salary column. This begs the question, are physiotherapists underselling and undervaluing themselves? Should we be voluntarily tendering the skills we have worked very hard to learn and develop over the years? Am I justifying the fact that less experienced physiotherapists are doing all this extra work, for no real financial gain? Yes! I came to realise that the people questioning me when I was doing all this extra work just couldn't comprehend that I was there because I enjoyed it, and I wanted to be there. If in any way I could contribute to the success of a team like Beeston, and learn and develop clinically in the process, then I was more than happy to commit my time.
It was for this reason that my role with the Talented Athlete Scholarship Scheme (TASS) was so exciting. Specifically, working as a Sports Physiotherapy intern with TASS athletes at the Sheffield Hallam hub (or TAC as they are known). The prospect of working alongside coaches and other support staff with a common agenda was too good to pass up. This was not without sacrifice: new house, new city, more hours, less pay, less time, less stability –a familiar story in the world of sport. But my role in the NHS treating patients with chronic lower back pain had lost its appeal. I wanted to work with talented, motivated athletes. Little did I know, however, that a massive bonus and justification would be almost immediate. An email from Craig Williams delivered the opportunity to provide physiotherapy cover for Team GB at the Brazilian Paralympic School Games, alongside Lawrence Mayhew of Leeds Beckett University, in November 2014.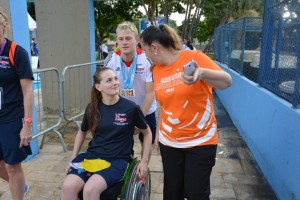 The trip exemplified all of the fundamental components I've outlined. But disability sport also offered something a little bit different. It's not a different level of commitment, sacrifice or support, nor is it a different level of funding or quality of facilities. It is, however, a very unique type of mentality. It would be easy to mistakenly assume that these athletes have 'overcome their disability' in order for them to compete at this level. Because for many of them, their disabilities will be ever present. But these are athletes who have accepted their disabilities. They don't dwell on them, but instead they have discovered where their abilities lie, and push these to their limits! It made for a very humbling environment.
If truth be told, in my role as physiotherapist I had very little clinical work to do whilst we were out in Brazil. But as with my time at Beeston, it was the unseen background work and presence that were important. The preparation, attention to detail and communication in the months leading up to the trip were thorough, to say the least. Ultimately, I think this was the key to the success of the trip – the tireless efforts, and communication amongst support staff, coaches, NGB physiotherapists and parents, ensured we knew all we could about our athletes, and had catered for every eventuality. Even the inevitable glitches that come with travelling by bus in a major Brazilian city were taken in our stride – Rio-bound practitioners, beware.
Cliché as it may be, the ethos of "Together Everyone Achieves More" (TEAM) was fundamental to the success that the athletes achieved in Brazil, which included an impressive hoard of gold, silver and bronze medals. The 'TEAM': Coaches, team managers, support and welfare personnel, physiotherapists, a doctor, a liaison officer and a media officer, all created an elite environment from which we learned and developed. Brazil was 'beyond expectations' for many, as outlined by Dr Guy Evans in his recent BJSM blog.
There was never any doubt that our athletes would win medals, but that isn't what this trip was about. The potential for these athletes to compete at Rio is very real, and they were far and away ahead of their field in Sao Paulo. So the emphasis of the trip wasn't on winning, but on becoming familiar with the various personnel associated with these trips abroad, and what is expected of them as an elite athlete in an elite environment. For us as a medical team, the emphasis was on remaining vigilant, daily monitoring, educating the athletes, and in particular developing working relationships, and an outwardly approachable presence that was important. The athletes knew we were there, and over the course of the week, hopefully they came to understand why we were there. The hope is that they, along with the rest of us, gained valuable experiences in working and competing in a very different country, climate and culture.
This was an excellent showcase of what TASS represents, as it pushes forward in an exciting partnership with Sport England. There is no question, that its success will be measured on the achievements of its athletes. But these achievements will be built on a foundation of collaboration, and to a great extent the experiences of their support teams. I am extremely grateful to have had such an amazing opportunity, and look forward to carrying my experiences forward, as I continue to develop as a Sports Physiotherapist.
***************************************
Michael Whichello is a Physiotherapist with TASS in Sheffield. Further pictures and comment on the GB team competing at the Paralimpiadas Escolares (Brazil Paralympic School Games) 2014, Sao Paulo, Brazil can be found @schoolgamesGB
(Visited 16 times, 1 visits today)