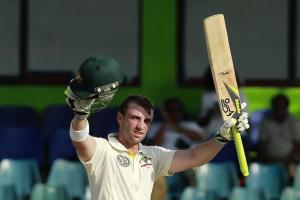 Tragically Phillip Hughes died on November 27th 2014 in Sydney after being hit in the neck by a cricket ball two days previously in a cricket match. He never regained consciousness after collapsing shortly after being hit by a bouncer bowled by Sean Abbott. He was aged 25.
David Burdon died playing football on September 24th 1988 after sustaining a blow to the abdomen during a heavy tackle. He fell in to haemorrhagic shock and died on the way to hospital. He was aged 19.  He was my brother.
What connects these two men in the prime of their lives is the freak nature and incredible rarity of these injuries and the amount of shear shock and grief that this causes.  Dr Peter Brukner as Australian cricket team doctor, explained shortly after Phillip died that the cause of death was vertebral artery dissection – a very rare condition that had only been previously described once before in cricket.
Death from traumatic injury in football is also very rare. A quick literature search on this reveals almost complete absence of any described cases. There are a few cases of splenic injury but liver haemorrhage from fractured ribs in a healthy 19 year old I cannot find described.  After attending several trauma courses as a sports medicine consultant including the excellent FA AREA course, I am met with almost disbelief when I describe what happened to my brother.
Of course tragic cases of sudden cardiac death are well known but traumatic death appears to be much rarer.
The sheer grief of these events are clear and it is very hard of course to comprehend the nature of the tragedy. A healthy sportsman competing in a sport that he loves and then not returning home.
Different sports, different countries and different times but the similarity is very clear.
Sean Abbott as the bowler who delivered that bouncer will be raw with grief and emotions of guilt.  The player that tackled my brother felt the same. He came to see my family the next day in tears after Dave died. All my mum could do was to hug him and tell him it was not his fault. The family of Phillip Hughes have been doing the same for Sean Abbott. I read the comments of Australian captain Michael Clarke who today said to Sean Abbott…
" Sean. When you feel like getting back on your horse mate, I promise you that I will be the first to strap on the pads and go stand up the end of the net to hit them back at you. It's what Hugh Dog would want us both to do".
Inspiring words from a great captain.
When the Australians play their first game since Philip died, they will go through what my other brother Paul and I also had to do- to continue playing sport knowing that this is what our loved one would have wanted.
The first hard tackle will be equivalent to the first bouncer faced.  At 17 years of age could I walk away and avoid football for ever in light of my brother's death ?  We decided that as brothers we should carry on -of course at the time this was extremely painful and hard to do.
This will be the same for the Australian players, Sean Abbott and family of Phillip Hughes – you have my thoughts, deepest sympathy and understanding of what you are going through.
Sport is fundamental to many cultures and essential in promoting health, competition, fun and much more.  For those of us that love sport it would be impossible to imagine life without sport. These types of traumatic deaths are incredibly rare and whilst of course any safety implications if they exist should be implemented, we cannot fully prevent such tragedies from ever happening.
Sport and life goes on. Compete and be healthy. But please always remember those that have tragically not come home in our thoughts and in our prayers.
*****************************************
Dr Mike Burdon , Consultant in Sports and Exercise Medicine, Peninsula Sports Medicine,  www.peninsulasportsmedicine.co.uk
Twitter: @peninsulasport
(Visited 10 times, 1 visits today)