By Olivia Halfacre
Based on the connection between pain and pathology in the tendons, this podcast is presented to the listener in the form of a debate – a new different format to those previous. Jill Cook welcomes three expert perspectives on the nature of tendons and their relation to pain. Chris Littlewood, a clinician and rotator cuff researcher, poses questions to Craig Purdam and Ebonie Rio. Throughout the debate, each person takes different viewpoints on the relationship between pain and pathology. This format exposes listeners to a diversity of issues that may address their questions and/or spark even more questions to uncover through further research.
Andy Franklyn-Miller is a well-known name in the sports medicine world and has a vast twitter following. He talks about the rehabilitation required after ACL reconstruction. Anterior cruciate ligament reconstruction is a surgicaltissue graft replacement of the anterior cruciate ligament, located in the knee, to restore its function after anterior cruciate ligament injury. Whether a BJSM podcast listener with experience in this topic and knowledge on rehabilitation, or someone with less expertise, Dr Franklyn-Miller will give you lots of think about.
Professor James McCormack, a Professor in Pharmaceutical Sciences, evaluates trials from drug companies and extensively studies results from major studies. This podcast is most useful and interesting for the general practice audience as the main focal point of this podcast is on non-steroidal anti-inflammatory drugs (NSAIDS). General practitioners can prescribe these drugs to patients as NSAIDS are used to relieve pain, reduce inflammation and, bring down a high temperature. However, at one stage in the interview, Professor McCormack states that there is no evidence that NSAIDS improve the outcome of acute sports injuries, furthermore he states that he has seen no evidence indicating that NSAIDS reduce swelling.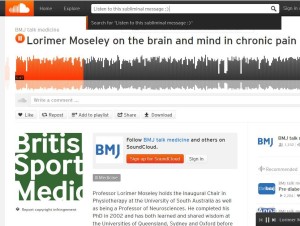 Professor Lormier Moseley answers questions that Ebonie Rio presents to him. The conversation revolves around the idea of the importance between pain and nociception which isthe encoding and processing of harmful stimuli in the nervous system, which essentially is the ability of a body to sense pain. Also Professor Moseley shares his views and opinions on the role of pain science in providing information to Sports Medicine Clinicians.
Through this highly controversial podcast, Adam Meakins touches on questions such as 'Is diagnostic palpation accurate?', 'Can the sacroiliac joint really be 'unstable?' and 'How does touch in physiotherapy have its therapeutic effect?' as well as many more. For any listeners going through shoulder rehabilitation, Adam discusses his blogs on '5 Least Favourite Shoulder Rehab Exercises' as well as 'Top 5 Shoulder Rehab Exercises', both of which may prove useful. Check out his twitter @thesportsphysio for more interesting articles and blogs based around rehabilitation.
*********************
Olivia Halfacre is a Work Experience Student at BMJ who is currently studying biology, psychology, physical education and German. She loves to travel and learn new things.
(Visited 18 times, 1 visits today)