By Raj Subbu, Clinical Research Fellow in Trauma and Orthopaedics/ Sports Medicine /Tunnel Doctor Fulham FC
'The role of the tunnel doctor is to provide extra medical assistance in managing acute medical or surgical emergencies and injuries for the home and away medical staff on match-days. This ensures a high standard of medical care is maintained for all players throughout the football season.'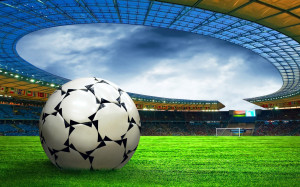 The tunnel doctor will be mandatory for all clubs competing in the 2014/15 Barclays Premier Football League. In previous seasons, certain clubs have employed 'pilot tunnel doctors' to assess their role and responsibilities on match-days.
This is a review of my experience as the tunnel doctor during the 2013/14 Premier League season at Fulham Football Club.
Background and Preparation
I first completed Core Surgical Training, and clinical training including General Medicine, General Surgery, Plastic Surgery, Trauma and Orthopaedics, Critical Care and Emergency Medicine rotations. I then explored my true passion in sports medicine and the treatment of elite athletes. I accepted a clinical research post in London focusing on clinical sports medicine, lower limb injuries and sports related research. In addition to clinical and research commitments, I carried out the role as tunnel doctor at Fulham Football Club for the 2013/14 season. In these varied fields, I managed both medical and surgical emergencies. Also, my previous pitch-side experience involved amateur football clubs at local and university level, providing basic first aid care.
Resuscitation and surgical courses required and beneficial to carry out role effectively
The FA Resuscitation and Emergency Aid is a mandatory life support course for all medical professionals working in football at pitch-side. This is essentially a combination of the ATLS and ALS course specifically designed for football related injuries, cardiac arrest scenarios and concussion management in particular. It is a two-day course (£450) consisting of pre and post course MCQ's with simulation-based sessions throughout and a common scenario moulage set-up for final assessment. For the duration of the course, knowledge, communication, and teamwork are monitored and assessed in each a group. Students must pass both the written and practical parts of the course for successful completion.
Summary of essential courses
FA Resuscitation and Emergency Aid Course (AREA)
Advanced Trauma Life Support (ATLS)
Advanced Life Support (ALS)
Basic Surgical Skills (BSS)
Matchday 
All home Premier League, FA Cup and League Cup matches required tunnel doctor cover. The day consists of arriving approximately three hours before kick off to meet the head of medical services and club doctor to discuss the Emergency Action Plan (EAP). All equipment required for match-days is reviewed and signed by the two home team doctors and the away team doctor. Meetings with the local paramedic and ambulance services take place two hours before kick-off to outline logistics and the destination of local hospitals, including the major trauma centres.
A unique responsibility of the tunnel doctor is to liaise with the away team doctor. This involves informing and discussing the facilities available and facilitating support for any injuries or emergencies. With regards to head injuries, the players are continually assessed (if substituted during the match) with any deterioration of clinical symptoms relayed to the medical team pitch. If a player is taken to hospital during the match, the tunnel doctor will remain at the home stadium ensuring two doctors remain present. This also provides the opportunity to address any appropriate medical history of concern, in particular any cardiac/respiratory history to be aware of in the event of an on pitch cardiac arrest.
At the stadium, we take positions for the match at kick-off. I alternate between the medical office (with a live TV feed) and the players tunnel. The live feed helps us assess mechanisms of injury or any loss of consciousness in head injuries. We then effectively communicate this information to the medical team at the bench/pitch side to inform appropriate decisions, including immediate substitutions, or close monitoring scenarios. Under the new guidelines, if there is a confirmed or suspected period of loss of consciousness, the player will be prevented from returning. This set-up allows for quick and repeated review of the live feed, reducing any uncertainty when making decisions. This worked effectively throughout the season for both home and away teams.
At full-time, the medical team assesses all wounds and performs appropriate treatments. We also make decisions on further imaging and investigations. We discuss any necessary issues with the travelling medical team and/or offer further medical assistance until situations are resolved safely. 
Summary of number of games covered
19 Home Premier League matches
Home FA Cup matches
Home League Cup matches
Summary of common injuries encountered
 Lower limb musculoskeletal injuries and assessments at half time and full-time
Head injuries/Concussion
Wound treatment and management
General medical treatment and advice
Communication and player interaction
The match day in the Premier League is highly pressurised and can be a stressful environment for the players and staff. Meticulous planning and organization ensure that all aspects of preparation are covered and run smoothly. Outlining the EAP early on match days gives each person a specific role and responsibility to carry out during the day. From the tunnel doctor perspective, a key skill is effective and clear communication. A number of different situations and scenarios test this skill throughout the day: discussions with team doctor and physiotherapists, describing and relaying mechanisms of injury information pitch-side or to the bench, discussions with local emergency departments and consultants regarding immanent transfers and admissions. Keeping calm under pressure along with confident decision-making are medical staff characteristics that provide high levels of care consistently.
Player interaction is also very important, as a tunnel doctor you are only present on match-days; player interaction is limited and there will be situations where you are leading their medical care and treatment. It is imperative, like any other clinical situation, to build rapport and trust with the players to ease anxiety during these situations, for example suturing a wound quickly at half time or assessing a head injury. Each player has certain pre-match assessments, medications and supplements that can be administered to develop a better rapport and doctor-player relationship. It is therefore important to consistently arrive with sufficient time before kick-off to allow for certain interactions. In my experience, building a relationship whenever possible makes treating the injured player more comfortable and reduces the initial stress levels of being treated by someone they don't know.
Summary
Tunnel Doctor is a challenging and rewarding role and is a valuable experience for those doctors working in sports medicine. It provides the opportunity to deliver treatment and assessment for head injuries and manage a range of acute conditions in the professional football environment. It requires enthusiasm and dedication, testing a range of attributes including clinical skills, decision-making and communication.
A sound knowledge of common sports injuries, musculoskeletal anatomy combined with experience in managing both medical and surgical emergencies are required to provide the highest standard of care in this environment.
References
1.THE FA GUIDELINES ON HEAD INJURY AND CONCUSSION MANAGEMENT IN FOOTBALL. www.thefa.com/my-football/head-injuries-in-football
Acknowledgements
Professor Fares Haddad: Research/Clinical Supervisor
Dr Steve Lewis: Fulham FC Club doctor
Mark Taylor: Head of Medical Services Fulham FC
All have provided support, guidance and mentorship and have encouraged further participation in this field of sports medicine.
***********************************************
Mr. Raj Subbu is a Clinical Research Fellow in Trauma and Orthopaedics/Sports Medicine, University College London Hospitals, and Tunnel Doctor Fulham FC University College 
Correspondence
(Visited 205 times, 1 visits today)