Sport and Exercise Medicine: The UK trainee perspective

 

(A BJSM blog series)
In 2005, the Department of Health formally recognized Sports and Exercise Medicine (SEM) as a medical speciality. One year later the Faculty of Sports and Exercise Medicine (FSEM) was born and with it the specialist training program. Since its inception, the program has produced a number of consultants who have taken-on leading roles in sport and healthcare.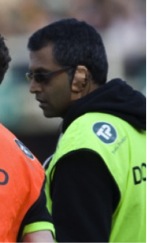 My own adventure in SEM began in August 2010, six months after completing my GP training. In accepting the offer of a training rotation in London, I was taking a significant gamble compared to the relative security of Primary Care. Nevertheless, like my predecessors, I could never have predicted the positive impact of this challenge on my career.
Beginning with Exercise Physiology, I was introduced to the complex pathways of our body and how we adapt during illness and physical activity. To watch it broken down into its essential elements not only provided a steep learning curve, but also brought an understanding of how physiological parameters can enhance performance.
With my time in Public Health, I became acutely aware of the challenges we face from a physical (in-) activity perspective. With expanding waistlines and ever-increasing demands on the NHS, I came to appreciate the importance of upstream prevention, motivating me to promote SEM to RCGP conference delegates as a new alternative.
The two final years were my musculoskeletal (MSK) and rehabilitation components. Spending time in orthopaedics, sports injury clinics and the Defence Medical Rehabilitation Centre (DMRC) at Headley Court helped develop the skills necessary to confidently manage musculoskeletal conditions and sports injuries. It also provided the opportunity to develop diagnostic and interventional MSK skills using ultrasound.
In addition to providing excellent training, the SEM rotation has opened many doors to work in sport. This aspect of SEM can be difficult to experience unless you are in the field. Its includes taking on lead medical roles within professional football or rugby teams, providing medical cover at multi-sport events, travelling to international tournaments, and working with the wide range of professionals who comprise the medical team. As a trainee, I have been privileged to work with a huge variety of athletes and professionals.
However, with all the additional experiences that SEM training can provide, the main caveat is that these tend to happen in the evenings or over weekends. Often one must sacrifice time spent with family and friends to accommodate this aspect of your career. Nevertheless, when compared to on-calls in other medical specialities, the job satisfaction and maintenance of interest when working in sport is incomparable.
As the end of the training program draws to a close for the current cohort of ST6s, let us take this opportunity to thank the pioneering clinicians who helped establish this field. Without their effort and sacrifice, the NHS recognition, FSEM and training programmes would not have been established. Equally, we must thank the interview panel of 2010 for accepting us onto the rotation and allowing us to embark on this journey. Finally, we must thank our respective families for their patience with our time spent away on training camps or competitions.
If any of the previous trainees were asked whether the SEM rotation positively impacted on their career, the answer would most certainly be a resounding "yes". Not only is it a new and exciting speciality, but also holds much potential for the future. With leadership and foresight from the FSEM, SEM can be guided to new horizons and further its impact on conventional healthcare.
***************************************
Dr Dinesh Sirisena is a Sport and Exercise Medicine Consultant who lives and works in London. He is the club doctor for AFC Wimbledon, team doctor for FA Women's Under 19 and Partially Sighted Squads and Northampton Saints Rugby team.
Dr James Thing co-ordinates "Sport and Exercise Medicine: The UK trainee perspective" monthly blog series.
(Visited 10 times, 1 visits today)