Association of Chartered Physiotherapists in Sport and Exercise Medicine (ACPSEM) blog series (UK Physios in Sport)

See also the recent issue of BJSM edited by UK Physios in Sport by clicking here: And of course, your UK Physios in Sport membership opens up all the BJSM content (via the Physios in Sport website).
By Michael Challis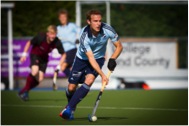 Over the last 10-15 years athletes across all sports have gotten bigger, stronger and faster. This has changed the nature of sports most notably in contact and collision sports like rugby, hockey and American football. We could attribute this to technology, but also the evolution of roles such as sports and conditioning (S&C) coaches, biomechanists, nutritionists and psychologists. All of whom work together to analyse every detail of the player's physical and mental attributes in order to enable that individual to achieve his/her genetic potential.
The last 10 years has also seen the massive expansion and increased availability of information. This has sometimes been to the athlete's detriment as information is often misinterpreted and misunderstood, especially if there is no one to educate and guide them. The general public and athletes playing in less well funded sports are vulnerable to misinformation which can lead to suboptimal training and performance. Hockey has this vulnerability, as many hockey teams will have players playing at the highest club level but do not have access to the same level of support as international players who will be playing side by side them in the same team.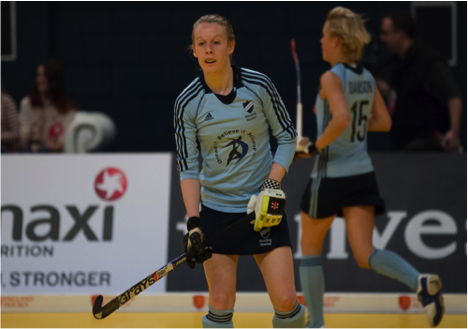 Reading Hockey Club (HC) is a typical example of where both the Men's and Ladies first team play in the premier division of the England hockey league and have a 60-40 split of those who play internationally full-time for Great Britain (GB) and those who have full-time jobs. The hockey players who play for both Reading and GB Hockey will be supported by the English Institute of Sport (EIS) and have daily access to S&C coaches, nutritionists, biomechanists, performance analysts, psychologists, medical doctors, physiotherapists and physiologists whereas the players who play just for Reading HC recreationally will only have access to a single physiotherapist on perhaps one training night and match day per week, if they're lucky. These players who play to arguably the same standard as international players could be predisposed to more injuries than their counterparts due to the lack of resources and expert knowledge available to them.
A descriptive epidemiology study by Dick and Hootman et al 2007 examined young collegiate hockey players from 1988-1990 and 2002-2003. They observed that between these time periods common injuries like ankle ligament sprains and knee internal derangements had fallen but had been counteracted by the significantly increased numbers of concussions, facial injuries and finger fractures sustained. They highlighted the need for prophylactic measures in the form of either more protective equipment, prophylactic taping/bracing and, or neuromuscular exercise programmes.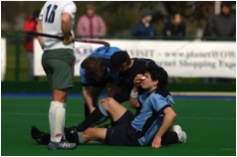 The England Institute of Sport incorporates these recommendations well by their vast and unique network of professionals who constantly communicate their ideas and plans regarding the GB team. For example, the physios and S&C coaches work collaborate in the pre-season to screen injury movements on individual players; should the player have any glaring risk factors then that player will be taken out of group training to be worked with, one on one, to reduce their risk of potential injury.
S&C coaches monitor heart rate, power outputs and ratings of perceived exertion (RPEs) daily to monitor signs of overtraining. Nutritionists educate players with regards to supplements and nutrition. Misconceptions of what the players think they should eat or take are common and can impair performance. Psychologists tie in closely with all the professionals to make them aware of how each player ticks and how each professional can communicate the most effectively with the individual athlete.
In an ideal world every club professional would want this for their team. But how can just one club physio have this kind of impact and give elite non-international players a similar service?
The key I believe is to become all of them. I have spoken to many physiotherapists and professionals who work in elite sport and the same messages always crop up:
Form links and networks with different professionals who you could potentially call on for help.
Learn to speak the language of S & C coaches and have the ability to create specific rehabilitation/strength and conditioning programmes for that athlete in their sport. (Specific being the key!).
Have a good understanding and awareness of optimal performance nutrition and supplementation particularly with regards to the sport you work in. 
Know your sport and its biomechanics.
Know your Athlete(s)!
By incorporating these principles, physiotherapists and, or sports medicine professionals will ensure that they are doing the absolute utmost to optimise the health, welfare and performance of their athletes. Love and be passionate about these principles and you will succeed.
References:
Dick R Hootman JM Agel J Vela L Marshall SW Messina R 2007, Descriptive Epidemiology of Collegiate Women's Field Hockey Injuries: National Collegiate Athletic Association Injury Surveillance System, 1988–1989 Through 2002–2003, Journal of Athletic training, Apr-Jun; 42(2): 211–220.
************************************************
Michael Challis is a Physiotherapist currently working full time at a clinic called 3-Way Healthcare. He also works as a part-time physiotherapist for Reading Football Club academy and at Reading Hockey Club for the Men's and Ladies first team.
(Visited 14 times, 1 visits today)