Wanted to inform you that in Kathmandu, Nepal during a semi final match of SAFF Championship 2013 between Nepal and Afghanistan on 8th September 2013 one player of the Afghanistan team, had a minor cardiac arrest. His life was saved due to timely intervention of competition doctor Dr. Binmra Bista. He used the FIFA-supplied AED to successfully revive the player and then quickly shifted to hospital within the span of 3-4 minutes. In hospital all tests were carried out and the tests reports were normal.
I spoke to Dr. Bista after the end of the match, he used the AED for the first time and he also thanked FIFA for supplying AEDs. It was a great experience for this doctor and he was very quick sense the real problem and thus he ended up using  the AED.
I think tomorrow you might be able to read some news stories on this.
shaji
Shaji Prabhakaran, Regional Development Officer at FIFA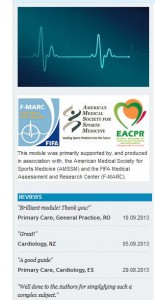 (Visited 1 times, 1 visits today)