by Dr Sharief Hendricks (@Sharief_H)
On Saturday 22 June 2013, the British and Irish Lions recorded a historic win over the Wallabies in the First Test (of three) in Brisbane. As the score suggests, it was a fiercely contested match, and made for some entertaining rugby with debutant Israel Folau crossing the try-line twice, George North scoring one of the Lions most memorable tries, and Alex Cuthbert finishing off a well rehearsed Lions backline move. Even though the match was a display of Test Rugby at its best, the match also showed rugby's unkind side – serious injuries. The Wallabies suffered 3 suspected serious injuries, one of them to another debutant, Christian Lealiifano, during the 1st minute of the game.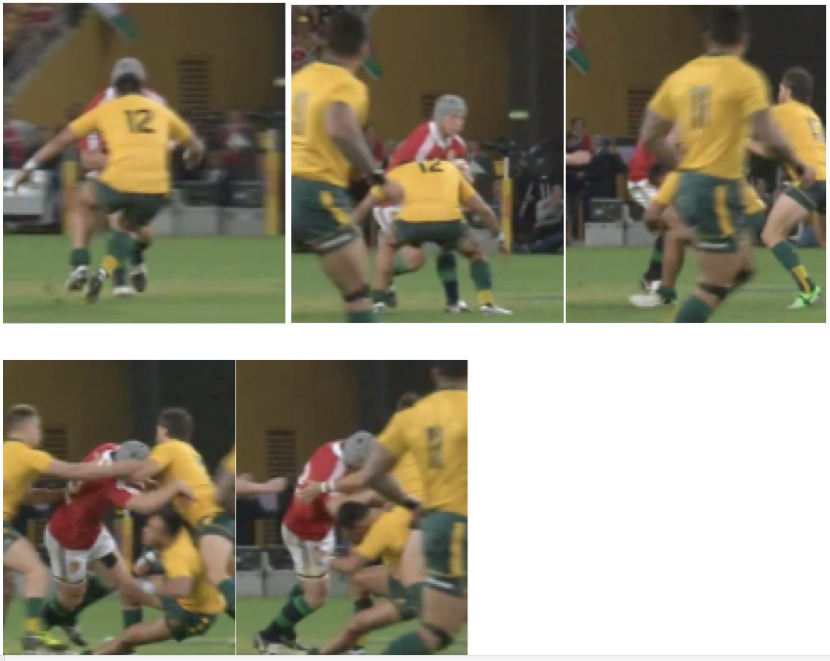 Christian Lealiifano, a physically conditioned 95 kg, started the match at inside centre (usually plays fly-half). From a lineout on the Wallabies 10 metre, the Lions aimed to set up play in the midfield with Jonathan Davies (103 kg) running an almost direct line at the defence. The defender lining up Jonathan Davies, was none other than debutant Christian Lealiifano. Christian Lealiifano was positioned almost directly opposite Jonathan Davies and attempted a front-on tackle. From the match footage, after the contact between the two inside centres, Christian Lealiifano failed to rise to his feet, and showed little or no movement. From the slow motion replay of the attempted tackle, it seemed Lealiifano might have had his head in an unfavorable position, where the vertex (top of his head) was the first point of direct contact with Jonathan Davies causing his neck to flex. From a defense perspective, play was moving from left to right, therefore, it is presumed a standard right shoulder front-on tackle was required.
A couple of points can be made from this unfortunate incident. Firstly, even players at the highest level get it wrong sometimes. Secondly, the importance of head placement and correct technique when executing a tackle. Note, this is not new information. A study conducted by the University of Nottingham, in collaboration with England Rugby Football Union, studied 6219 tackles over 2 English Premiership seasons (2003/2004, 2005/2006) to identify risk factors for tackle injuries 1. In view of this study's in depth analysis of tackle injury, the attempted tackle by Lealiifano on Davies had all the components to place Lealiifano at high risk of injury. The tackle injury study, published in the British Journal of Sports Medicine (2010), identified the following risk factors for tacklers.
Playing position – tackler's playing 10, 12, or 13 has a higher chance of injury than any other position.
Tackler vs Ball-carrier speed – tackler's attempting to tackle a ball-carrier with a significantly higher speed before entering have a higher probability of injury.
Head position before tackle
Body region struck – tackler's are at high risk of injury when contacting the ball-    carrier with the head or neck.
In addition to these risk factors, Lealiifano was technically playing out of position, which has been reported to also increase risk of injury in the tackle 2. Though, the positional demands of inside centre and fly-half are fairly similar. Also, it was Lealiifano's debut match, and his first action of the game. Therefore, perhaps with the intention of making a big impact on his debut, he may have been a bit too eager to make the tackle, and as a result, got the timing wrong and found his head misplaced.
The physical and dynamic nature of the tackle contest places players at high risk of injury. While this risk of injury may always be present during these physical contests between the ball-carrier and tackler, techniques to significantly reduce this risk of injury, and at the same time effective from a performance perspective, have been highlighted previously 3. Lets hope Lealiifano is fit and well soon, and the remainder of matches in the British and Irish Lions Series are both injury free, and highly entertaining.
References
1   Fuller CWC, Ashton TT, Brooks JHMJ, et al. Injury risks associated with tackling in rugby union. Br J Sports Med 2010;44:159–67.
2   Garraway WM, Lee AJ, Macleod DA, et al. Factors influencing tackle injuries in rugby union football. Br J Sports Med 1999;33:37–41.
3   Hendricks S, Lambert M. Tackling in rugby: coaching strategies for effective technique and injury prevention. Int J Sports Sci Coach 2010;5:117–36.
This article also features in RugbyScience, http://rugbyscience.wordpress.com. a website dedicated to translating rugby research to all its relevant stakeholders i.e  coaches, players, medical staff, management, and parents.
*******************************************
Dr Sharief Hendricks currently holds a NRF Innovation Post Doctoral Research Fellowship at the University of Cape Town. His thesis was titled 'The Tackle in Rugby Union: Understanding training and match behaviours to develop better coaching strategies for skill acquisition, performance, and injury prevention'. In his short academic career, he has already published over 10 peer-reviewed articles, presented at numerous international conferences, 3 of which he was one of the keynote speakers (including an International Rugby Board coaching conference). Sharief has also contributed significantly to national strategic documents for his country's rugby union (SARU). Sharief has also played rugby at provincial level (Western Province Under 21, 2006), and represented the University of Cape Town Rugby Club at 1xv level (Club league and Varsity Cup). He still plays for the University of Cape Town to date. Sharief also co-edits a science communication blog called RugbyScience http://rugbyscience.wordpress.com.
(Visited 3 times, 1 visits today)