Guest blog by Damilola Alawode (@DAlawode)
 Read part 1 here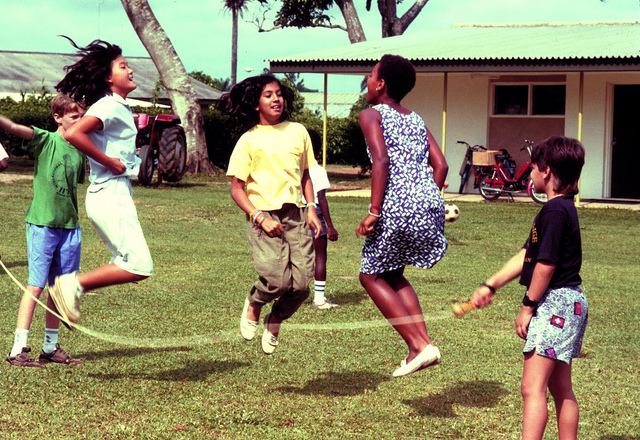 In Nigeria, government policies (e.g., policies that might influence health) can arise at three levels. There is the Federal Government, state governments, and local governments. Local governments tend to follow the policy laid down by state governments. Though there is a national health promotion draft policy, there is no legislation compelling the Federal Government to reduce or combat the scourge of NCDs through promotion of physical activity. Unfortunately, Nigeria does not have a goal of reducing physical inactivity by 10% as the government of Canada did for year 2003 or the Healthy People 2020 policy (a 10-year health agenda released by the US Department of Health and Human services in 2010), which identifies physical activity as a leading health indicator.
However, the FG through the National Sports Commission (NSC) set up a body known as the Nigeria Academicals Sports Committee (NASCOM) headed by a former Nigerian soccer star to collaborate with both state and local governments in promoting an initiative on physical activities in secondary schools (read more here). The initiative started with soccer, and it has been extended to 4 other sports (tennis, table tennis, basketball and swimming); athletics will start later in the year. The schools are required to train teams that would represent them in inter-school competitions from the local to the states up to the national level, thereby maintaining and promoting a culture of physical activity among the students. This is a good initiative that should be built upon by all levels of government as well as the private sector so as to sustain its impact.
The "Walk and Live" program
A state government in the southwest part of the country (The state of Osun) organizes what they call the "Walk and live" program. It is a once a month city walk similar to what takes place in the city of Mombasa, Kenya. It is an attempt to keep citizens of the state fit. Although this initiative can be improved, it has brought the importance of physical fitness to the forefront of more people. This should be applauded, but the message on the importance of having at least 30 minutes of physical activity everyday should be made known to all through different channels and utilising the best methods of public health education and support. This state has also made it mandatory for physical education to be taught in elementary schools, hoping it would make children enjoy the culture of daily participation in physical activities from an early age. This is a commendable policy which other states should look to implement.
The Medical and Dental Council of Nigeria regulates undergraduate medical education and, regrettably, physical activity does not feature within the undergraduate curriculum (in related news, stay tuned for the new BJSM undergraduate blog series). This is a fundamental flaw which should be rectified as patients deserve evidence based professional practice. However this is hampered in Nigeria due to the lack of training in physical activity promotion and behaviour change unlike countries such as USA, Canada and South Africa where sports and exercise medicine specialists use exercise and tailored physical activity to treat and prevent chronic diseases.
The ideal medical curriculum
This can be remedied if the Medical and Dental Council of Nigeria (MDCN) as the regulating authority for training doctors ensures that:
A review of the medical curricular requirements to include emphasis and guidance for physical activity education.
Refresher courses are offered on the significance and management of NCDs and reduction of physical inactivity
These two recommendations are crucial because a majority of the 32% of private facilities registered with the federal ministry of health are primary health care facilities; if we add this number to the public primary healthcare facilities and we have a very significant pool of healthcare facilities that are the first point of patient contact with probably being staffed by doctors who may not be up to date with managing physical inactivity induced illnesses.
We advocate for setting up a body (like the US National Society for Practitioners of Physical Activity and Public Health and the American College of Sports Medicine) to develop specialists in physical activity and public health. This will ensure that there is a practitioner workforce as well as academic trainers to ensure that in future, the medical curriculum includes physical activity promotion (more info here). This model is presently being used in the United States and may also be put in place in Nigeria. This involves training in competencies areas such as use of data and scientific information; planning and evaluation; intervention; organisational structure; and exercise science in public health.
Graduate training should also be created to guide the next generation of researchers in this field. Global capacity in exercise science, physical education, physical therapy, public health, architecture and planning, and environmental health should be increased. There is an urgent need for integration and comprehensive approaches to public health and physical activity.
Also more research into programmes that will increase physical activity and reduce physical inactivity are needed to help to build evidence base for our national policies and action plans.
Next steps – Olympic Legacy?
In conclusion, following the poor performance of Nigeria's team at the 2012 London Olympics, the Federal Government has ordered a comprehensive re-organisation of the sports sector. I hope this will also have a positive effect on promotion of physical activity in the country and its people.
It will also be of immense national benefit if the appropriate authorities, private organisations and individuals take steps to implement a "Call to action" message. These key actions, namely reducing inactivity and sedentary behaviour, enabling patients and the public to access regular physical activity and exercise as part of an integral part of their daily lives, are necessary to advance global health through physical activities and is something that Nigeria can deliver.
*******************************************************
Damilola  A. Alawode (MBChB ile-ife) is a Public Health resident in the Department of Community Medicine, Federal Medical Centre, Ido-Ekiti, Nigeria, a Msc Student (Sports and Exercise Medicine, University of Bath, United Kingdom), an advocate for the promotion of physical activities and a blog writer on Sports and Exercise medicine for Naijamedics.com.
Twitter: @DAlawode  
Email:  dalawode2002@yahoo.com
Acknowledgements
Ann Gates (www.exercise-works.org); A source of inspiration and motivation; and for sharing her resources.
Dr. Dayo Osholowu (IOC certified Sport Medicine Clinician and Director Sport Medicine Program, Lagoon Hospital Lagos state, Nigeria); for his advice and contribution to the piece.
Dr. Stathi Afroditi (Director of Sudies SEM, University of Bath United Kingdom); for her comments on an earlier draft of this report.
References
Abubakari AR et al, Systemic review of the prevalence of diabetes, overweight/obesity and physical inactivity in Ghanaians and Nigerians. Public Health Journal, 2008 Feb;122(2):173-182 http://www.ncbi.nim.nih.gov/pubmed/18035383
Adegoke BO et al, Physical Inactivity in Nigerian young adults; Prevalence and socio-demographic correlates. Journal of Physical Activity and Health, 2011 Nov;8(8);11 35-42 http://www.ncbi.nim.nih.gov/pubmed/22039132
Canadian Fitness and Lifestyle Research Institute (CFLRI) reports 2001 https://www.phecanada.ca/economic-costs-inactivity
California Centre for Physical Activity (CCPA), California department of Health services; The economic costs of physical inactivity, overweight and obesity in Californian adults, 2005 report https://www.phecanada.ca/economic-costs-inactivity
Cost of physical Inactivity, 2008 a publication of Physical and Health Education Canada https://www.phecanada.ca/economic-costs-inactivity
Federal Ministry of Health, Nigeria Report 2010 Health promotion draft policy.   www.scribd.com/doc/43538097/Nigeria
Lancet Physical Activity series: Physical Activity 5; The pandemic of physical inactivity; global action for public health. Lancet 2012, 380: 294-305 Published online July 18, 2012 http://dx.doi.org/10.1016/S0140-6736(12)60898-8
National Society for Physical Activity Practitioners in Public Health. http://www.nspapph.org/new-acsm-nspapph-physical-activity-inpublic-health-specialist-paphs-certification (accessed Jan 19, 2012)
Nigeria demographic and Health Survey 2008 by National Population Commission, Federal Republic of Nigeria and DHSmeasure,2009 http://www.measuredhs.com/../FR222pdf
Odegbami Segun, Mission to Addis Ababa, Segun Odegbami's Official blog, 2012 Apr 30 http://mathematical7.com/mission-to-addis-ababa/
Odunaiya NA et al, Physical activity levels of Senior Secondary School Students in Ibadan, Western Nigeria. West Indian Medical Journal 2010 Oct;59(5):529-534 http://www.ncbi.nim.nih.gov/m/pubmed/21473401/
Osun State Goverment report June 2012, Walk and Live. http://osunstate.gov.ng/index.php?option=com_content&view=article&id=204&catid=7&Itemid=199
 Business day Newspaper August 15 2012, Poor Olympics outing: FG orders re-organization of sport sector.   www.businessdayonline.com/NG/lndex….
Sallis RE, Exercise is medicine and physicians need to prescribe it. Br J Sports Med 2009 43: 3-4  bjsm.bmj.com/content/43/1.toc
WHO Non-Communicable Diseases report, 2004   www.who.int/../ncd_report_chapter1.pdf
WHO, A framework to monitor and evaluate the implementation: Global Strategy on Diet, Physical Activity and Health, 2008. http://www.who.int/dietphysicalactivity/DPASindicators/en/index.html (accessed Jan 19,2012)
(Visited 36 times, 1 visits today)