Guest blog by Adam Weir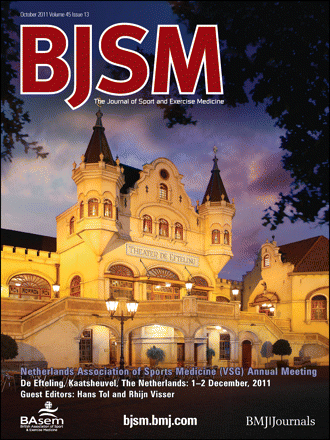 The 7th Annual Scientific Congress of The Netherlands Association of Sports Medicine recently took place on December 1st – 2nd,, 2011. This congress was held for the first time at the Efteling, the largest attraction park in Holland. The atmosphere was great; the fairy tale surroundings gave the congress a new twist.
You can hear more about the congress and sports medicine in the Netherlands listening to this podcast with Hans Tol and myself.  You can also read more about it in the Editorial, by Tol and Visser in the October issue of BJSM.
The opening keynote lecture was from Prof Meeusen, from the Free University in Brussel, who spoke about the facts and fiction surrounding overtraining. He demonstrated the large number of misconceptions surrounding this topic, and gave us a lot to think about. More blood tests are not always the solution.
The closing keynote of the first day was presented by Prof Sundgot-Borgen from Norway, who spoke about eating disorders in young athletes. She gave a great overview of the topic and highlighted the projects they are working on in Norway. She gave useful advice about how to make it acceptable to speak about eating disorders and changing the culture surrounding sports. As many as 45% of athletes in some aesthetic sports have disordered eating and she warned against measuring fat percentage in those under 18 years of age.
My colleague Maarten Moen and I dressed up to chair our session on prevention issues in adults. There is now broad consensus as to the benefits of exercise; however, identifying and removing obstacles remains a big challenge. Some exciting local initiatives were discussed.
In the evening there was a social programme with dinner, music and dancing and then a night in the famous Efteling hotel. Dr van den Hoogenband, the Dutch chief medical officer for London 2012, presented the key note lecture in the morning of the second day on the future of elite sports medicine in the Netherlands. The current vision is to reduce the number of top sports medical centres to four regional locations to centralise care. This stirred up an animated debate, and I am sure we will hear more about this.
After two more parallel sessions the congress closed until next year. Let us hope that this new location is the start of a new era – and that we will all live longer, and more happily ever after!
*************************************
Adam Weir is a sports medicine physician who works at the Hague Medical Centre (MCH) department of sports medicine and the sports medicine advice centre (SMA) in Haarlem. He is interested in research in sports medicine and has a PhD on the field of athletic groin injuries. Current projects that he is involved in are RCT's on stem cells in Achilles tendinopathy, PRP for acute hamstrings ruptures, physical training for type 2 diabetics with complications, ESWT for patella tendinopathy and risk factors for groin injury.
(Visited 2 times, 1 visits today)