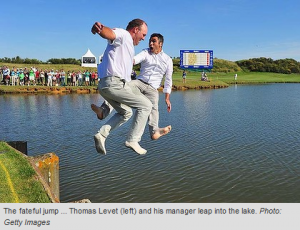 BJSM extends sympathies to golfer Thomas Levet, who seems likely to miss the British Open due to a 'celebration injury' after his French Open win (see him immediately pre-injury, left).
He clearly doesn't spend as much time in the water hazards as some of us. The hazards are usually incredibly wide and powerfully ball-sucking but they are not that deep.  Quelle dommage.
Interestingly, there have been papers published on score-celebration injuries in soccer! Injuries included ankle, clavicle and rib fractures and the mean time to recover was 6.2 weeks.
If this is an area of your sports medicine expertise here the original link:
Enjoy the weekend – celebrate safely!
(Visited 13 times, 1 visits today)