By Dr Dinesh Sirisena (@sports_med_doc) and Dr Joanne Probert (@probertjo)
Dinesh was both Field of Play Lead and Match Day Doctor, and Joanne was Medical Director at the 2016 Rugby Sevens.  They share their experience of being part of the medical team, when preparing for and delivering care and end with 5 take home points for anyone planning to do at a major sporting event in the future.
It was April 2016 and with the year well underway, one of the most highly anticipated events on the Singapore calendar rolled into town; the long awaited HSBC Rugby Sevens was back after a 10-year hiatus and there was an air of expectation.  Having just completed the Hong Kong stage, the 16 international teams arrived with plenty of support and Fiji were hot favourites having won the earlier event.  At the heart of the tournament is the anticipation that one team will be crowned victorious after two-days of high intensity, fast paced and zinging rugby, and thus began the Singapore stage.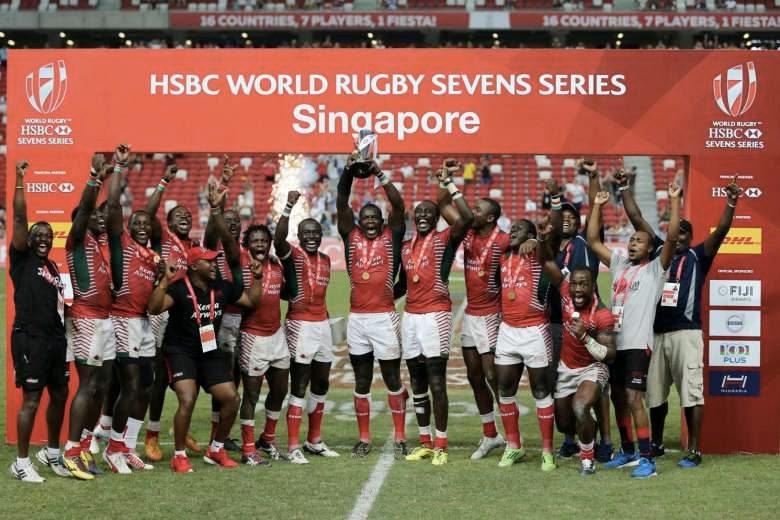 Preparation is Key When Delivering Medical Care
Compared to its fifteens counterpart, the rapid turnover of matches (over 50 in total), high impact and non-stop activity for just under 15 minutes, presents unique challenges for medical teams supporting such events.  Even with past experience from tournaments such as Singapore Cricket Club and Schools Sevens, the local and international media interest created from the return to Singapore meant the medical room, pitch-side team (doctor, physiotherapist and ambulance crew) and head injury spotters needed to be on our toes.
A key element in developing the medical team was the regular cohort of clinicians chosen from Singapore Rugby. Also, limiting numbers meant that we better understood each other's patterns of working and were very familiar with various protocols.  Our continual increase in pitch-side efficiency reflected this approach.
Equally, with World Rugby leading the way in concussion management internationally, the medical team was well versed in Head Injury Assessment (HIA) protocols: what to look out for during games and when to request assessments.  The CSx Headguard app (http://csx.co.nz/hub/), with its electronic record of the HIA and previous data for comparison, made the assessments more efficient.
Match Day Arrives
The weekend finally arrived coupled with plenty of Twitter and Facebook updates.  The number and frequency of matches kept us busy and made for two long days. Fatigue particularly set in on the second day when there were higher-stake matches. Teamwork and daily essentials such as readying equipment, performing run-throughs and ensuring there was a regular supply of coffee, were key components to a successful weekend for the medical team.
One of the significant differences compared to domestic matches was the constant media presence.  For the tournament organisers, entry of teams onto the field of play and half-time footage were important times for filming and it was essential that players were the focus.  Equally, with free-flowing social media in the stands, it was essential that we maintained our professionalism and integrity.  Often, there would be calls from the spectators to take photographs or retrieve something from the field of play, but fortunately this did not faze the team.
Removals from play due to concussion risked excluding a player from the remainder of the tournament, so ensuring we made a correct diagnosis was essential.  To ease the decision-making responsibility extra steps were taken; in addition to the pitch-side HIA/Match Day Doctor, a HIA spotter was made available to provide feedback and replay footage from the stands.  It meant that HIA assessments become a shared decision after careful analysis.
The heightened awareness of on-field events brought with it another challenge to maintain focus!  With the high turn-around of matches, there was little time to "switch off" and enjoy the event.  Often, even when away from pitch-side or the spotter location, we found ourselves analysing games from the medical room, assessing movements and looking out for potential injuries. This relentless monitoring of events was draining, even if we witnessed no injuries.  To ease this pressure and keep refreshed, we constantly cycled roles.
Despite the challenges of working in this environment, the event was a fantastic experience. It was humbling to work amongst a close-knit group of colleagues, who maintained team spirit and supported each another fully.  In situations where we were called upon to help athletes on field, the team worked seamlessly and feedback on social media and organisers was overwhelmingly positive.
As a side benefit, being part of the medical team also meant that you had the best seats in the stadium when your favourite team came on!
What Next?
The HSBC Rugby Sevens will be returning to Singapore next year and will hopefully become a permanent fixture on the sporting calendar.  While the medical team reflects on the event and plans for 2017, the significant interest generated following Kenya's surprise win will no doubt fuel the excitement further.  It seems Singapore may be the event where teams and organisers do not know what to expect, other than excellent medical care!
Take Home Messages
Develop a strong rapport with organisers to identify their expectations.
Identify key roles, select the medical team early and provide opportunities to work together prior to the main event.
Ensure emergency protocols are in place and have been taken through rigorous practices.
Maintain professional integrity when working under the spotlight of social and mainstream media.
Make sure the team feels valued with treats, coffee and a celebratory drink at the end of the event.
Please do let us know what your experiences of Sevens Rugby or other event medical coverage have been – hopefully we can learn from each other!
Bio:
Dr Dinesh Sirisena is an Associate Consultant in Sports Medicine at Khoo Teck Puat Hospital and was both Field of Lead and Match Day Doctor at the event.
Dr Joanne Probert is a Consultant in Emergency Medicine at Khoo Teck Puat Hospital and was the Medical Director for the event.
(Visited 24 times, 1 visits today)