Guest blog by Professor Phillip Sparling
Please see Professor Sparling's related call to action. Here's the link – a petition written to Lance Armstrong.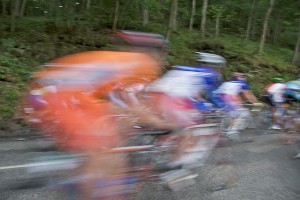 I'm grieving.  October 2012 will forever be imprinted in my memory as the month of damning revelations and the demise of Lance Armstrong.  I'm not naïve about the use of drugs in sport and know it's particularly prevalent in professional cycling.  Yet, like many, I believed in Lance.  His story was uniquely inspiring and his good works unrivaled.  We wanted to believe him.  His comeback story was heroic.  And so the legend grew.  Sadly, we were duped.  Millions like me are deeply disappointed.
We must not allow this to jade us.  Impressionable youth to seasoned athletes, all are watching us, awaiting our reactions.  For my part, I'll strive to emphasize the positive that sport provides – the limitless possibilities for joy and learning inherent in play and competition – and the importance of integrity.  Colleagues, let's redouble efforts to lead by word and deed, and leave no doubt about our core commitment to ethical behavior in sport and in life.
A comforting thought from William Shakespeare, Macbeth: Come what come may, time and the hour run through the roughest day.
*******************************************
Phillip B. Sparling, Professor Emeritus, Georgia Institute of Technology School of Applied Physiology, Atlanta, Georgia, USA
PS: Nice piece from the Sydney Morning Herald – Lance-betrayed-the-higher-principles-of-sport-but-saga-cant-shake-power-of-participation- Click here for it. 
(Visited 3 times, 1 visits today)